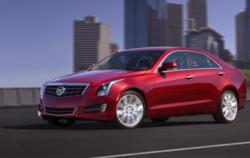 Torrance, CA (PRWEB) January 10, 2012
The Detroit auto show is one of North America's largest and most prestigious automotive showcases. Manufacturers have teased consumers over the past several months with sneak peeks and previews of upcoming auto show debuts ahead of schedule, in hopes of drawing attention to the vehicle's unveiling.
According to autoMedia, fuel economy will be a primary bragging point this year, rather than horsepower. autoMedia anticipates seven show standouts for their potential impact and influence on both consumers and the industry. At the top of the list of the most anticipated new cars and concepts from the 2012 Detroit Auto Show, the new Acura ILX compact sports sedan concept. The introduction of this small sedan derived from the Honda Civic platform, reinforces the trend to offer luxury features in affordable, high-mileage models.
Other automakers striving for the right balance of appeal and practicality who made the autoMedia list are Chrysler, with the unveiling of the Dodge Dart; Ford with the redesigned Fusion sedan; the new Honda Accord Coupe Concept; the new line of small cars from Cadillac; Toyota, with the more affordable Prius c; and the introduction into the small crossover SUV market with the Buick Encore.
With more than 40 eagerly anticipated new vehicle announcements at the show, consumers can preview a 2012 Detroit Auto Show Photo Gallery online at autoMedia.com prior to the show's public opening January 14. While many models have been announced for exhibit and others only hinted at, there will undoubtedly be several unexpected, noteworthy announcements that will add to the excitement of the event.
The 2012 Detroit auto show—officially called the North American International Auto Show, is held each year in Detroit's Cobo Center. It opens January 9-10 to the press, January 11-12 to the industry, and January 14-22 to the public—with an exclusive Charity Preview the night of January 13, benefitting a wide range of children's charities.
About autoMedia.com: The auto website was launched in September 2000 by a team of automotive editorial, design, and publishing professionals, with the goal to be the premier provider of quality automotive content on and for the Web. Today it features over 92,500 pages of original articles, including over 2,500 features researched and written by leading automotive experts, covering new and used car buying, new vehicle previews, road test reviews, car care maintenance, professional driving advice, and technology. Automotive enthusiasts and new car shoppers can read about the latest industry news, pricing, rebates and incentives, view photo galleries and research details on all makes and models. For more information visit autoMedia.com.
###