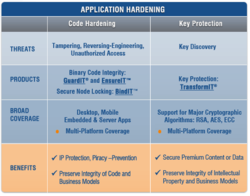 Bethesda, MD (PRWEB) May 01, 2012
WHAT: Kevin Morgan, chief technical officer and vice president of engineering, Arxan® Technologies, will participate in the panel discussion, "Protecting the Product: Content Rights and Technology Solutions in Media and Entertainment: Implementation of Technology Strategies," at Digital Hollywood Spring 2012 taking place in Marina del Rey, Calif.
Digital Hollywood debuted in 1990 and has from its start been among the leading trade conferences in its field with more than 15,000 top executives in the film, television, music, home video, cable, telecommunications and computer industries attending the various events each year.
WHEN: May 2 at 3:50 p.m.
WHERE: Digital Hollywood Spring 2012, The Ritz Carlton Hotel, Marina del Rey, Calif.
Panel Discussion: "Protecting the Product: Content Rights and Technology Solutions in Media and Entertainment: Implementation of Technology Strategies"
Content is what the entertainment and media industry produce, and the viability of the industry's future rests on its ability to manage its content and control its distribution while at the same time making it available to an ever larger customer base. And that is the job of the digital rights management (DRM) technology industry, to make the film, music and mobile technology delivery systems safe for mass use. In this session, we will explore, from the point of view of the technology companies, the possibilities and potential of DRM in the evolving content landscape. From CDs and DVDs to broadband and wireless delivery, DRM and content protection represents the bottom line of the future of our industries.
As digital distribution of media and entertainment continues to rapidly expand across devices, platforms and services, such as mobile, OTT and IPTV, premium content and critical applications have become increasingly susceptible to nefarious exploits and hacks. These threats hinder innovative business models in today's connected world as the underlying software that enables access controls, functionality or safeguards intellectual property (IP) is increasingly subject to attack.
Arxan's content protection solutions shield digital media stakeholders against tampering and reverse-engineering of code and IP in a resilient, renewable and proven manner which does not impact source code, application functioning or the development process. Arxan's customers span the digital media ecosystem, from leading game developers to digital media application media players to conditional access and DRM providers (including Widevine®, which is now Google). Arxan's technology embraces a multi-DRM approach and supports the robustness rules of multiple standards (Marlin, Playready, OMA, etc.). Arxan is also a member of the Digital Entertainment Content Ecosystem (UltraViolet®), Consumer Electronics Association (CEA®), Marlin® Partner program and the PC Gaming Alliance®.
ABOUT ARXAN TECHNOLOGIES:
Arxan Technologies Inc. is the leading provider of software security solutions that protect the App Economy. We secure applications in distributed or un-trusted environments against tampering and reverse engineering for unauthorized use, insertion of exploits, piracy, and theft of intellectual property. Our advanced software protection solutions are globally deployed by industry leaders across various industries, such as digital media, gaming, ISVs, financial services and Fortune 500 enterprises, to proactively defend the integrity of their code and business models. We defend, detect, alert and react to attacks through a threat-based, customizable approach. Proven, durable and resilient, Arxan's offerings support a full range of application protection needs, from commercial software to military grade assurance. Arxan Technologies has offices in Bethesda, MD, San Francisco, CA and West Lafayette, IN. For more information, please visit http://www.arxan.com.