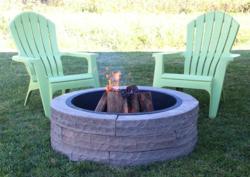 We were very excited to showcase all of our top-selling products: the Handi-Block, Garden Block, Polyslab Utility Base and especially our new Fire Pit Kit. These are the must-haves for every homeowner...
Columbia, MD (PRWEB) November 14, 2012
Evolve Composites' Fire Pit Kit proves to be a big hit at the Baltimore Remodeling and Deck Expo. The Deck Expo, which ran October 9 through October 12, is an annual trade show that exhibits manufacturers of decks, railing and porch products with thousands of attendees from around the globe. "We were very excited to showcase all of our top-selling products: the Handi-Block, Garden Block, Polyslab Utility Base and especially our new Fire Pit Kit. These are the must-haves for every homeowner with their innovative design and practical versatility," explained Steve Rizoti, Evolve Composites' Director of Sales, Home Improvement and Building Products. "Show goers were amazed by Evolve's Fire Pit Kit's versatile style, which can adapt to any outdoor setting," Rizoti said. Excitement was buzzing from home improvement enthusiasts, remodeling contractors, backyard living contractors and major distributors. "The Fire Pit Kit has been targeted as the next big thing by show goers," said Rizoti.
Evolve's Fire Pit Kit is a three-ring kit constructed of Evolve's patented Evo-Crete Concrete with a steel insert, resulting in a lightweight composition while maintaining extreme durability. Unlike other fire pits on the market, Evolve's Fire Pit Kit comes at nearly 1/3 the weight comparatively and ½ the cost. "The kit is easily assembled and dis-assembled for simple mobility and resists heat transfer far better than traditional concrete materials," explained Rizoti. "With families investing more money on their yards, decks and outdoor living areas, the Fire Pit Kit is the perfect addition for winter sales growth. The Fire Pit Kit will allow them to extend the time they can spend outside during the cool months of the season." The Fire Pit Kit can be used as a non-modular backyard accessory, or it can be taken apart for seasonal storage or even used while camping. The versatility of the kit is limitless.
Continuing to lead the way within the deck building community is the popular Handi-Block. Handi-Block is an ultra lightweight, precast concrete deck pier made of a special formula that utilizes concrete and recycled poly fibers to create a product that is super strong and produces a much smaller carbon footprint. "The Handi-Block is a proven multi-purpose foundation block for the home improvement DIY customer or contractor that can be used for a broad range of projects that include garden sheds, decks, patios and more," Rizoti explained.
The Deck Expo also highlighted Evolve's innovative Garden Block. Weighing only a third the weight of traditional edgers, the Garden Block provides the user with a unique ability to resize each individual block to accommodate those hard to fit places found while completing a lawn edging or garden bed project. The Evolve Garden Block is available in two complimentary faces as well as 2 natural earth colors.
Another product displayed at the DeckExpo was the Polyslab Utility Base. The Polyslab Utility Base's innovative design delivers superior performance by combining channel support with a patented rib structure that transfers weight directly to the ground. With the Polyslab's super lightweight attribute and nesting ability, it also cuts down on space and time when transporting. "The Polyslab Utility Base can be used all around the home, on RV's, at the beach and even sporting events. The list can go on and on because depending on the individual user's need, this extremely practical utility base can be adapted for any situation. The versatility of the Polyslab makes it a great tool for any homeowner to have," Rizoti said. The Polyslab Utility Base is offered in a variety of sizes and in both black and gray colors.
Evolve Composites manufactures their products with Evo-Crete, which is a fiber reinforced cellular concrete. This technology creates a dynamic cellular structure with a fiber reinforcement to provide extreme strength and durability while weighing up to three times less than traditional aggregate based concrete. Other products manufactured by Evolve Composites include: Evo-Crete Generator Pads, Evo-Crete Hurricane Pads, Evo-Crete HVAC Equipment Pads, Evo-Slab HVAC Equipment Pads, Evo-Lite HVAC Equipment Pads, Polyslab Equipment Pads and the new PolyconX Polyslab connector. Evolve Composites also distributes a variety of PVC pipe and PVC fittings, as well as innovative accessories such as the Magjumper, a magnetic tipped testing and troubleshooting lead.
Evolve Composites will be showcasing their unrivalled product lineup at the Orgill Spring Market February 21-23, 2013.
Evolve Composites is a Columbia, Maryland based company with manufacturing plants in Alabama, Florida and Maryland along with a national sales and marketing office in Houston, Texas and Mooresville, North Carolina.
For more information, call toll free 1-877-386-5522 or visit http://www.evolvecomposites.com