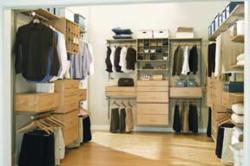 Closets are important components of every room in the home. As season change, so does the use of those spaces. Keep them efficient this fall by adding any of these six, new freedomRail storage designs to the home
Cincinnati, Ohio (PRWEB) September 08, 2012
Closets are important components of every room in the home. As season change, so does the use of those spaces. Keep them efficient this fall by adding any of these six, new freedomRail storage designs to the home.
Cozy Master Closets
Fall fashion season is right around the corner so now's the perfect time to give bedroom closets the attention they deserve. This year, don't get stuck wearing summer duds in September. Instead, install a freedomRail closet to highlight fall wardrobes. Tailor it to fit any storage style by adding extra hanging space, shelves or drawers.
Family Command Centers
Transform a wall in the kitchen or entryway into a family communication center to keep family affairs in order. freedomRail designs provide desk solutions in spaces as small as 48 inches or as large as 120 inches. Add drawers and paper cubbies to customize the space even more.
Sporty Garages
It's time to pack away swim gear and baseball equipment and replace them with football and soccer gear; a simple task with freedomRail Activity Organizers. The 2' x 4' grid attaches directly to the wall and can be customized with locking storage accessories that adjust to fit your family's sports needs.
Easy Entertainment Centers
Cooler weather usually means more family time inside watching movies, listening to music and playing games. Keep CDs and DVDs, games and photos organized by adding a freedomRail entertainment center. Shelves are easy to install and can be customized with cubbies, drawers and cabinets.
Lovely Laundry Rooms
Love it or loathe it, doing laundry is a fact of life. Keep things running efficiently by adding a freedomRail storage system. Because it's so flexible, you can add shelves, laundry baskets and hanging space to even the smallest spaces.
Save 25% off in September on all freedomRail purchases! For design inspiration, visit freedomRail.com where you can choose from thousands of designs from the online design tool, tailored to fit any need, style and budget.
freedomRail is a truly adjustable storage system for every area of the home. Every freedomRail system delivers a smart solution that recognizes the consumer's needs for control and function in their day-to-day life. freedomRail solutions empower consumers to stay organized and freely in control by proving them with a system that is the ideal combination of versatility, adjustability, strength and ease. For more information, visit freedomRail.com.