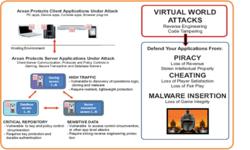 San Francisco, Calif. (PRWEB) March 07, 2012
WHEN:
March 7-9, 2012
WHAT:
Arxan Technologies, a leading provider of software security solutions that protect applications from attack in distributed or un-trusted environments, will be exhibiting its game protection solutions at the Game Developers Conference (GDC) at booth # 2209.
Gaming software is extremely vulnerable to diverse types of hacker attacks, especially as today's gaming experience extends to multiple platforms, across many connected devices ranging from desktop, mobile to server and embedded environments. Software attacks such as code tampering enables piracy or cheating, and reverse-engineering allows attackers to steal intellectual property (IP), inject malware, such as automated gold farming bots, or circumvent access controls of the game for unauthorized use. Cloning of back-end servers for massively multiplayer online role playing games (MMORPG) from reversing client-server communications also affects game integrity and loyalty that in turn, often results in compromised business models and revenue streams as gamers abandon the affected titles.
Additionally, as game publishers seek to release their latest titles via new digital distribution channels, such as their own or third party storefronts, they continue to be susceptible to nefarious hacks. Whether an online or digital distribution game architecture, the monetary and business risk is significant for game studios and publishers, and is clearly prompting industry leaders to deploy active protection solutions that can effectively safeguard game integrity with unobtrusive and customized protections that detect, defend and respond to hacking attempts.
Many of the top global game publishers and studios producing AAA titles rely on Arxan's game protection for software security across millions of devices worldwide. By deploying Arxan's code hardening with GuardIT® or EnsureIT®, and key hiding protection, with TransformIT®, customers can shield their digital game assets against software attacks in a durable and proven manner, without impacting source code, game features or the development process. Arxan's security technologies have layered and self-protecting techniques without any single points of failure. This yield both passive and active software game protection to thwart detected attacks.
Arxan's customers span the digital media ecosystem, from leading game developers to digital media application providers (including Widevine, which is now Google). Arxan's technology embraces a multi-platform approach to include security for all major operating systems such as Android, Apple iOS, Windows, etc. Arxan is a member of the PC Gaming Alliance, Consumer Electronics Association (CEA), ARM Connected Community, and Digital Entertainment Content Ecosystem (UltraViolet).
WHERE:
Game Developers Conference
Moscone Convention Center
San Francisco, CA
The Game Developers Conference attracts over 19,000 attendees, and is the primary forum where programmers, artists, producers, game designers, audio professionals, business decision-makers and others involved in the development of interactive games gather to exchange ideas and shape the future of the industry. To learn more visit http://www.gdconf.com/.
ABOUT ARXAN TECHNOLOGIES:
Arxan Technologies Inc. is a leading provider of software security solutions that protect applications from attack in distributed or un-trusted environments. We harden applications against tampering and reverse engineering for unauthorized use, piracy, and theft of intellectual property. Our advanced software protection solutions secure ISV, digital media providers' and enterprise applications to proactively defend the integrity of code and business models. We defend, detect, alert and react to attacks through a threat-based, customizable approach. Proven, durable and resilient, Arxan's offerings support a full range of application protection needs, from commercial software to military grade assurance. Founded in 2001, Arxan Technologies has offices in Bethesda, Md., San Francisco, and West Lafayette, Ind. For more information, please visit http://www.arxan.com.