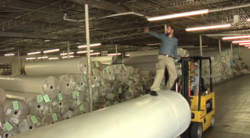 In addition to the $1.19 per square foot handscraped wood laminate flooring liquidation we are offering this same floor professionally installed for $2.49 sq ft
Dallas, TX (PRWEB) October 21, 2012
Dallas Flooring Warehouse announces the start of the 2012 Wholesale Handscraped Wood Laminate Flooring Liquidation Discount Event.
The liquidation sale of 12"mm handscraped laminate flooring at wholesale direct pricing will begin on Monday October 22,2012 at 8:30 AM. Due to a special liquidation stock buyout Dallas Flooring Warehouse will be offering a large inventory or 12mm handscraped laminated floors at $1.19 sq ft. While they have a large inventory at this time customers are encouraged not to wait as all projections indicate the inventory will sell out in a short time. The Dallas handscraped laminate flooring event begins on October 22, 2012 and continues until all stock is sold off. Customers will be supplied on a first come, first served basis.
"We secured a surplus flooring buyout and we are now going to pass the savings on to the Dallas Fort Worth Metroplex. Hand scraped wood laminate flooring is very popular in Dallas, but in traditional retail stores the cost can be substantial. At Dallas Flooring Warehouse we sell wholesale direct to the public Monday through Saturday. Our Dallas discount carpeting, Dallas hardwood floors, and wood laminate flooring are always at deep discount wholesale direct pricing. With this special liquidation event we are providing a special remodeling opportunity at a amazing price.", says Christopher Oliver, spokesman for Dallas Flooring Warehouse.
Representatives for Dallas Flooring Warehouse have stated that they do not know how long the liquidation inventory will last and they advise interested parties to contact them at their earliest convenience at (682) 300-3836.
"In addition to the $1.19 per square foot handscraped wood laminate flooring liquidation we are offering this same floor professionally installed for an additional $1.30 per square foot. So, it can be purchased cash and carry for $1.19 per square foot or it can be purchased for $2.49 professionally installed by our team.", says John Martinez, hard wood and handscraped laminate flooring installer.
Dallas Flooring Warehouse is a wholesale flooring and Dallas discount carpeting vendor. They have a massive multimillion-dollar on-site inventory of flooring for immediate pickup and next day installation ranging from discount carpet, laminate floors and solid hardwood flooring. Their huge on-site inventory and massive buying power allow them to sell wholesale direct to the public and contractors alike. Their address is Dallas Flooring Warehouse 8717 Directors Row Unit B Dallas, TX 75247. Their Dallas wholesale flooring hotline is (682) 300-3836. For more information about Dallas Flooring Warehouse visit their website at dallasflooringwarehouse.com.