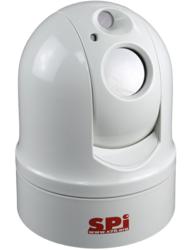 if the storm blows, the M1-D shows
New York, NY (PRWEB) November 01, 2012
SPI Corp is a leading manufacturer of thermal pan tilt systems for US Military, Law Enforcement and Rescue agencies. For over a decade they have produced and distributed pan tilt thermal camera systems throughout the world. Their systems have been successfully used in a wide range of search and rescue protocols from natural disasters to combat and police actions.
"Our M1-D thermal pan tilt camera is the ideal tool to aid rescuers during and after a disaster like Hurricane Sandy," explained Randall Kolchins, Director SPI CORP. "Severe storms pose unique challenges to first responders. Thermal imaging technology is the proven tool to locate victims and assess damage but handheld systems cannot see through glass and therefore require the rescue personnel to be out side the safety of their vehicle."
Mr. Kolchins went on to explain, "The M1-D pan tilt thermal camera is a vehicle mounted system that is controlled from inside the safety of the rescue vehicle. This allows the team to be on the scene sooner and longer which we hope translates into saved lives and reduced property damage." A thermal pan tilt system, like the SPI CORP M1-D, is an imaging system that mounts on top of a vehicle, boat or building and is controlled remotely. Typically the operator will have a "joystick" style control to position the pan tilt thermal camera and a monitor to view the scene outside the vehicle. The M1-D thermal pan tilt combines a thermal camera, visual CCTV camera and a laser pointer into the remote controlled pan tilt housing.
Hurricane Sandy rocked the east coast on Monday night bringing with it record storm surge and wind gusts to a large portion of metropolitan areas. The storm (now being labeled a super storm and no longer a hurricane) is the latest in what seems to be a more frequent occurrence of hurricanes hitting highly populated areas. These severe storm systems wreak havoc with populated areas. Visibility is greatly diminished and power is inevitably lost to a great portion of the affected population. Estimates are that up to 8 million customers are without power in the Hurricane Sandy path. Dark and cold conditions are always difficult for rescue personnel but when these conditions are compounded by high winds and floodwater the challenge is exponentially increased. Thermal imaging technology can see in day or night conditions regardless of light level so it is understandable why the thermal camera is a favorite for rescuers.
"Our thermal pan tilt unit is so compact it can be mounted almost anywhere," stated Darren Desoto, Lead Technician SPI Corp "The M1-D thermal pan tilt is only about 2 pounds and 5" in diameter and with the magnetic base you can just pop it on top of any vehicle and have instant thermal pan tilt capability." He went on to exclaim, "If the storm blows, the M1-D shows." Thermal pan tilt technology is not a new development. These types of remote thermal camera systems have been around for many years. These systems are what you would see in a police helicopter or a large military vehicle. Historically, pan tilt thermal systems have had a limited market. The most often cited reason for their lack of adoption is because they are bulky, complicated and expensive.
SPI Corp claims to have expanded the potential of the thermal pan tilt technology by producing a smaller, lighter package envelope and dramatically reducing cost. They contend that with the new price points of their M1-D system this technology is poised for wide spread sensor distribution.
"At these prices everyone can afford to have a thermal pan tilt camera," remarked Jim Santana, Sales Manager, SPI CORP "Thermal PTZ systems have always been a great tool but before the M1-D most agencies just couldn't afford the system cost. With the M1-D I can get this life saving technology into the hands of any agency no matter what their budget is."
SPI Corp is committed to making the M1-D thermal pan tilt technology available to any agency that needs it. They have worldwide distribution and are currently accepting new distributors that share their goal of making life saving thermal pan tilt technology affordable to the people that need these tools.
SPI Corp has been in the business of manufacturing and distributing Thermal Imaging Solutions for well over a decade. Existing products include Pan Tilt Thermal Cameras, Marine Thermal PTZ Multisensor solutions, thermal riflescopes and infrared cameras.
Potential customers interested in learning more about the M1-D thermal pan tilt or for purchasing options including the entire line of thermal imaging solutions offered by SPI Corp can visit http://www.x20.org. Customers seeking immediate attention regarding these products should contact Jim Santana at 702-369-3966.