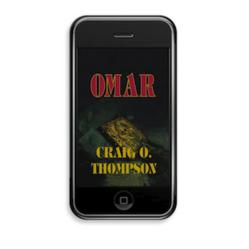 The book has been described as a suspense-filled, action-adventure, techno-thriller with a blend of historical fiction.
Indianapolis, IN (PRWEB) December 15, 2012
Millions of e-book reader devices are now in the hands of book lovers with, perhaps, millions more to arrive at households over the holidays. To accommodate shoppers looking for award-winning thriller e-books to fill digital libraries on their Kindles, iPads, iPhones, Androids, Macs and PCs, StrataGem Press™ (an imprint of Brightwater Publishing Company) has reduced the $5.99 regular price of Craig O. Thompson's award-winning action-adventure, techno-thriller, "Omar: A Novel" by over 33% to the special holiday price of $3.99.
Compared to the hardbound edition, with a list price of $24.95, that's an 84% savings; a 73% savings over the list price of $14.95 for "Omar's" softbound edition.
Personal and gift e-book copies of the epic award winning "Omar: A Novel" may be downloaded directly through http://www.Omar-Thriller.com. Hardbound and softbound editions are also available through Amazon.com
The holiday price reduction is set to continue through January 31st. It provides an opportunity for fiction-genre readers to download "Omar: A Novel" onto new devices that they receive as gifts during Hanukkah, Christmas, Kwanzaa and other special occasions.
"Holiday pricing serves two purposes", reported J. Caniglia of StrataGem Press'™ parent company, Brightwater Enterprises, LLC. "It's our way to celebrate that 'Omar: A Novel' was recently awarded the 2012 Grand Prize for 'Best Thriller' in the Best Indie Book Competition." The annual competition is sponsored by The Kindle Book Review (TheKindleBookReview.net), a leading Internet site that allows e-book readers to discover well-reviewed, lesser-known and up-and-coming authors.
"Of course," Caniglia continued, "we want to encourage the number of 'Omar: A Novel' e-book downloads to be equal to the global readers who enjoy deep sea action adventure, techno-thrillers as highly rated as 'Omar'."
Also the recipient of the International Benjamin Franklin Awards™ Silver Award for "Best New Voice – Fiction", several reviewers have described Thompson's "Omar: A Novel" as a book for fans who enjoy works by Clancy, Ludlum, Cussler, Jack Higgins or Wilbur Smith, among others. The book has been described as a suspense-filled, action-adventure, techno-thriller with a blend of historical fiction.
"Omar" Synopsis: In 1995, CIA/FBI jointly discover plans to recover a trove of priceless treasure from deep below the North Atlantic Ice Barrier, aboard RMS Titanic. Ultra-zealous terrorist divers compete against others as they set off a complex web of international intrigue and suspense. CIA's Colonel Bramson recruits Dr. Cary Parker, Woods Hole oceanographer / archaeologist, to beat both teams to Titanic's grave. And a wave of worldwide terrorism is set into motion at 2077 fathoms, as a rare, priceless book and lost treasure becomes the primary focus of a triadic search. Parker, challenges the terrorists on his own turf, and what follows is an epic adventure of legendary proportions.
Award-winning author/speaker/keynoter, Craig O. Thompson (@Craigt1), is a counter-terrorism and business disaster recovery planning consultant, and communications director for the International Association for Counterterrorism & Security Professionals (IACSP). Mr. Thompson holds a B.S. and M.A. in Education from Northern Arizona University. He is currently working on two novels, a non-fiction book and three screenplays.
Brightwater Publishing Company | StrataGem Press™
P.O. Box 503, Greenwood, IN 46142-0503
http://www.Omar-Thriller.com