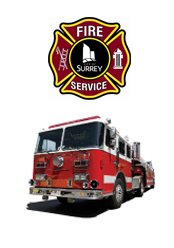 "I was impressed with how quickly Litco were able to grasp our key performance indicators and translate our requirements into one dashboard – they were very reactive to our needs throughout the process"
Karen Fry, Deputy Fire Chief, Surrey Fire Service
Markham, Ontario (PRWEB) May 07, 2012
Litco Systems Inc., a Canadian company and leading provider of Document Process Automation, Business Intelligence (BI) and Agile Development products, today announced the implementation of an Operations and Staffing Dashboard, built on the QlikView Business Discovery Platform, at Surrey Fire Service.
Surrey Fire Service's Challenges
Like many fire departments, Surrey Fire Service was collecting data but faced challenges in analyzing it. Six or seven employees were engaged to provide monthly statistical reports that were circulated in hard copy, often in a variety of formats. This was not only time consuming, but resulted in the data usually being obsolete by the time it was received. As a progressive organization that wanted to be able to make business decisions on evidence collected, Surrey Fire Service needed real-time information that could be accessed easily by staff at various levels.
"We wanted to get to a point where we could make operational decisions on our performance based on the evidence stored in our database in real-time"
Karen Fry, Deputy Fire Chief, Surrey Fire Service
The Solution
Litco Systems and Surrey Fire Services entered a Development Agreement to create an Operations and Staffing dashboard that effectively replaced over 10 distinct hard copy reports. Surrey Fire Service provided the industry expertise while Litco Systems provided the development expertise. This solution enables Surrey Fire Service to now analyze call performance, response times, inspections and property data, personnel absences and staffing levels; and allows the Administration staff to quickly and effectively report on the key performance indicators within the organization in a real-time system.
"I was impressed with how quickly Litco were able to grasp our key performance indicators and translate our requirements into one dashboard – they were very reactive to our needs throughout the process"
Karen Fry, Deputy Fire Chief, Surrey Fire Service
The Benefits
Easy to create and simple to modify, the dashboard saves time and provides insight into the organization that is much easier to understand than the reports previously used. Where in the past it sometimes took up to two days to obtain a report, the data can now be viewed in as little as 15 minutes. The solution enables Surrey Fire Service to meet their requirements of being more accountable and make decisions based on evidence collected, by deploying the data up and down the chain of command to Operations staff who can then measure their teams' performance. Also, the graphical presentations make it easier for all levels of users to understand.
Surrey Fire Service is now able to analyze data quickly and dynamically, drilling down to focus in on specifics when required.
"QlikView creates broader and deeper understanding of our service so that we can analyze to finer detail and see where changes are needed"
Karen Fry, Deputy Fire Chief, Surrey Fire Service
About Surrey Fire Service
Surrey Fire Service provides fire suppression, fire prevention, medical aid, rescue services, hazardous materials response and education services to the municipality's 472,000 inhabitants. It is one of the largest composite fire departments in Canada with 17 fire halls, and also provides dispatch services for 34 other fire departments across British Columbia. As one of the quickest growing municipalities in Canada, Surrey Fire is a modern, progressive fire service that is led by evidence-based decision-making.
About Litco Systems Inc.
Litco Systems Inc. is a Canadian company and a leading provider of Document Process Automation, Business Intelligence (BI) and Agile Development products. Litco delivers solutions that automate manual processes, improve the flow and access of information, provide insight into data from disparate systems and allow rapid building and management of business applications. Litco System's philosophy is to provide superior products that integrate with existing systems, implement quickly with the least disruption, and offer fast ROI. Litco Systems Inc., founded in 1987, is a premier business partner of Bottomline Technologies Inc., Business Geographic, Mendix and QlikTech Inc. and has offices in Montreal, Toronto and Vancouver.
For more information about QlikView and the Fire Department Operations and Staffing Dashboard, please contact Lisa Banducci, Business Development Manager, E-mail: lisab@litcosys.ca, Tel: 604.942.6121. For information about other solutions offered by Litco Systems Inc., please visit http://www.litcosystems.com.
Individual trademarks, copyright and intellectual property rights are duly acknowledged.