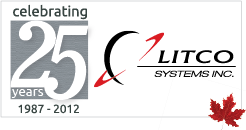 THe Nprinting solution allows staff members to distribute and review information easily, NPrinting makes that possible through a very simple drag and drop interface.
Markham, ON (PRWEB) December 10, 2012
Litco Systems announces a new partnership with NPrinting. NPrinting is the most advanced report generation, distribution and scheduling application for QlikView on the market. It lets users quickly create and modify reports, generate and filter them based on updated data and distribute them to whom and when you need to. Get the right information to the right people at the right time.
NPrinting uses proprietary technology which makes it possible to export data from QlikView documents to PDF, JPG or other image formats via e-mail attachments, save them to user-specific folders or send to printers to make hard copies. In addition, the Excel templates that are included allow users to drag and drop any field in the QlikView document into an Excel template. Formatting and functions can be applied to the fields which are dynamically generated so that if the underlying data changes, users can just run the report again to update them.
View a short video on NPrinting Benefits
Features/Benefits of NPrinting for QlikView:

Create reports natively in Word and Powerpoint,
Embed images of any QlikView object in your Office reports,
Use data from your QlikView documents in your reports,
Create HTML reports and send them out by e-mail or publish them on your website,
Improve PDF report creation performance dramatically
Send QlikView reports as PDF, JPG or other image formats via e-mail attachments
Apply filters to your data and to your recipients
Schedule QlikView report publication and distribution, data updates
Creating and maintaining an enterprise reporting program can be very demanding. NPrinting helps you manage and schedule data export, report creation and delivery. Over coffee.
About Litco Systems
Litco Systems Inc., a Canadian company and a leading provider of Document Process Automation, Business Intelligence (BI) and Agile Development products. Litco Systems delivers solutions that automate manual processes, improve the flow and access of information, provide insight into data from disparate systems and allow rapid building and management of business applications. Litco systems' philosophy is to provide superior products that integrate with existing systems, implement quickly with the least disruption and offer fast ROI.
Litco Systems has offices in Vancouver, Toronto, and Montreal.For more information, visit http://www.litcosys.ca/nprinting.html