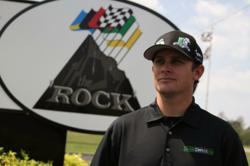 We've had a great season so far. I can't say enough about my crew chief Dan Bormann and all of the guys on the No. 6 College Complete Chevrolet
Denver, NC (PRWEB) April 10, 2012
This week Justin Lofton returns to the site of one of the most memorable moments of his racing career - Rockingham Speedway, as the NASCAR Camping World Truck Series (NCWTS) ushers in NASCAR's return to the historic track. Etched with history, the 47-year-old track is special to the 26-year-old Lofton after he celebrated the ARCA Racing Series championship at "The Rock" in 2009.
"Rockingham is such a special place to me. The history it holds within our sport means a lot, but the fact that I ended the 2009 season celebrating my first stock car championship there, makes it even more special," Lofton said. "It is a fun track. You're on the edge every lap. It is a great place to watch a race, but even more special to race. It's what racing is about. I can't say enough about how excited I am that The Rock is back on the schedule."
Just like in 2009, Lofton will be piloting a No. 6 entry for Eddie Sharp Racing (ESR) as he wheels the No. 6 College Complete (http://www.collegecomplete.com, 877-543-2655) Chevrolet within the NASCAR Camping World Truck Series (NCWTS). The event, the Good Sam Roadside Assistance 200 Presented by Cheerwine, marks first NASCAR race at the 1.017-mile track since 2004.
Though this week will be his first in a truck at the track, Lofton has raced at "The Rock" three times within ARCA competition. He has started each event out strong, showing starting positions of third, fifth, and second. The most important run at the eastern North Carolina track in October of 2009 provided the most challenges.
When it was all said and done, Kligerman took the checkered flag, but Lofton took the championship trophy courtesy of a third place finish. He wrapped up the championship with a narrow five-point margin over Kligerman. He ended the year with six race wins, 15 top-fives, and 19 top-10s spanning 21 races.
After the first two races of the 2012 NCWTS schedule, Lofton is in a familiar position near the top of the point standings. He has finished third and fourth in the first two events at Daytona and Martinsville in the No. 6 College Complete(http://www.collegecomplete.com, 877-543-2655) Chevrolet, leaving him tied for second entering the Rockingham race. This week, he will be racing chassis 049 for the first time. ESR acquired the truck from Kevin Harvick Inc. (KHI). It was last raced at Michigan International Speedway last summer and tallied a 16th place finish.
"We've had a great season so far. I can't say enough about my crew chief Dan Bormann and all of the guys on the No. 6 College Complete Chevrolet," Lofton added. "To go from no top-fives last year, to two in our first two races - this is where we should be running. I'm anxious to get to Rockingham and keep going."
The Good Sam Roadside Assistance 200 Presented by Cheerwine is set for Sunday, April 15th at 1 PM eastern. Fans attending the Rockingham race weekend can stop by ThunderFest in downtown Rockingham on Friday, April 13th from 7 to 8 PM to meet Lofton, the 2009 ARCA champ and current NCWTS contender.
About College Complete
Partnered with hundreds of educational institutions and across all types of education goals, including traditional college degrees, trade and vocational certifications, and professional licensure, College Complete helps students assess all of the information that exists in the public domain, allowing them to understand and make sense of their educational opportunities. Their services are free and available to anyone. Whether you are interested in Art and Design, Business, Computers and Technology, Criminal Justice, Education, Healthcare and Medical, Science and Engineering, and much, much more; if you're an Electrician, a Nurse, an Automotive Mechanic, a Teacher, a Police Officer, or you're simply interested in learning Computer Programming, Networking, Web Development, or Graphic Design College Complete is available for you at no cost. You can reach them by filling out a form on their site or calling to speak with your personal Education Advocate at 877-543-2655. College Complete has an initiative to assist those in the US Armed Forces and their families and is able to assist in identifying schools that will not only provide the educational requirements of the soldier, veteran or family member but will do so in a cost effective manner.