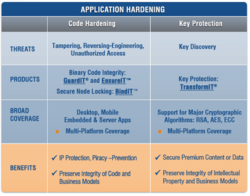 Bethesda, Md. (PRWEB) April 02, 2012
Arxan® Technologies, a leading provider of software security solutions that protect applications from attack in distributed or un-trusted environments, today announced the recent key appointments of two industry veterans to spearhead the company's growth via strategic partnerships and Asia Pacific presence. Joining the company are Jukka Alanen, vice president of business development, and Rich Lord, vice president of Asia-Pacific (APAC) Sales.
Alanen will lead Arxan's global business development strategies, including strategic alliances, technology partnerships, major go-to-market and channel relationships, industry ecosystem development, and new strategic growth initiatives. Alanen reports directly to Mike Dager, chief executive officer and chairman. Alanen is based out of Arxan's San Francisco office.
Alanen brings extensive expertise in leading business growth activities and positioning for industry leadership, and developing new partnerships and alliances. Most recently, he was vice president of Business Development and Alliances for Symantec Corporation where he led the company's $900 million strategic partnerships portfolio with substantial growth and orchestrated expansion into several new markets. During his nearly five years with Symantec, he also led strategy, business development and M&A for a $2 billion business unit as well as Product Portfolio Management for Symantec's $4 billion Enterprise Product Group. Before Symantec, he was with McKinsey & Company for six years, leading new product business-building, go-to-market, growth strategy, and M&A initiatives for top tier high-technology companies. Alanen has a M.Sc. in Engineering and M.Sc. in Economics and Business Administration.
In addition to Arxan's continued growth and presence in the EMEA region, the company has achieved rapid adoption of its application protection solutions in the APAC marketplace. Rich Lord will oversee Arxan's new growth opportunities and existing operations in the APAC region as vice president of APAC Sales. He will lead the company's in-country offices in Japan, as well as regional support for Arxan's large base of gaming, digital media and enterprise customers and partners.
Lord has an extensive background building and managing direct and indirect sales teams in APAC and will be responsible for building upon the outstanding Arxan customer foundation in APAC developed over the last several years. Lord joins Arxan having recently served as the Regional Director Asia Pacific and West for Kinaxis. Prior to Kinaxis, Lord was the Regional Director Asia Pacific for Fortify Software. Lord established a strong sales presence in APAC for Fortify by delivering $10 million of new software sales over four years in 10 countries and by working with 20 partners in the region. Lord brings extensive APAC sales and market experience to Arxan having lived in Japan for a number of years.
The appointment of Alanen and Lord further spurs Arxan's ongoing market focus on the global mobile-driven App Economy where software security is a critical component to protect applications and content against sophisticated attacks such as reverse-engineering, tampering, unauthorized access, malware insertion, and intellectual property (IP) theft. Protected by Arxan, application and content owners can embrace innovation across multiple platforms in a secure and seamless manner. Arxan achieved approximately 100 percent revenue growth in 2011 and doubled its international customer base in both EMEA and APAC markets.
"We are pleased to have Jukka and Rich join the Arxan team as their leadership, expertise and experience will directly impact Arxan's growth and global opportunities to protect the today's diverse App Economy," said Dager. "From digital media to gaming, banking, and the mobile enterprise, app ecosystems continue to expand across new markets and platforms that need to be protected from hackers and other attacks that aim to steal IP and disrupt business models."
Arxan's software security solutions for native or managed code, provide automated defend, detect and react capabilities by deploying various security techniques (called Guards) such as obfuscation, checksum or anti-debug directly into the software code of each app to harden binaries against discovery and compromise. The patented technology protects against tampering and reverse-engineering of code and IP in a durable and proven manner which does not impact source code, application functioning or the development process.
ABOUT ARXAN TECHNOLOGIES:
Arxan Technologies Inc. is a leading provider of software security solutions that protect the App Economy. We secure applications in distributed or un-trusted environments against tampering and reverse engineering for unauthorized use, insertion of exploits, piracy, and theft of intellectual property. Our advanced software protection solutions secure ISV, gaming publishers, digital media providers' and enterprise applications to proactively defend the integrity of code and business models. We defend, detect, alert and react to attacks through a threat-based, customizable approach. Proven, durable and resilient, Arxan's offerings support a full range of application protection needs, from commercial software to military grade assurance. Arxan Technologies has offices in Bethesda, MD, San Francisco, CA and West Lafayette, IN. For more information, please visit http://www.arxan.com.