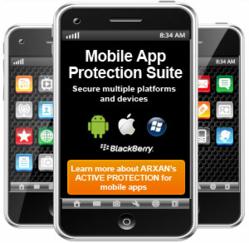 San Francisco, CA (PRWEB) February 28, 2012
RSA CONFERENCE 2012 (Booth #324) — Arxan® Technologies, a leading provider of software security solutions that protect applications from attack in distributed or un-trusted environments, is showcasing its Mobile Application Protection Suite here at RSA Conference 2012, the most comprehensive forum in information security offering industry and technical professionals. Arxan's presence at RSA coincided with its presentation featuring its Mobile Application Protection Suite yesterday at America's Growth Capital 8th Annual Information Security & West Coast Emerging Growth Conference in San Francisco.
The proliferation of mobile computing devices has created an app-centric global marketplace, ushering in the 'app economy' that is driving new business models and revenue streams across all industries. According to the recent The CIO Magazine Tech Poll conducted in January 2012, 57 percent of IT executives surveyed said they are increasing investments in mobile applications over the next 12 months.
The growth of mobile applications has also become a clear target for hackers to launch collaborative and sophisticated attacks on the new perimeter -- the application. According to Global Industry Analysts, Inc., the global market for mobile security is projected to reach $14.4 billion by 2017.
Although mobile security incorporates varied device and data centric solutions, these network-oriented defenses are not specific to the application layer. As a result, attacks against all major mobile platforms - Android, Apple iOS, Blackberry, Windows Phone Series - are growing. Specifically, mobile applications are now core assets to organizations and are subject to passive and active attacks such as mobile malware insertion, in- memory tampering, reverse engineering/decompilation, code lifting, or key discovery. Furthermore, the diversity of platforms, devices, immature mobile standards and application development practices all contribute to an insecure mobile application environment. This is underlined by the common marketplace norm of device jail breaking which easily provides root access to unauthorized users. These software threats ultimately yield intellectual property and revenue loss.
Arxan' Mobile Application Protection Suite provides robust security by ensuring integrity for the application layer in today's complex mobile environment. The suite includes Arxan's EnsureIT®, GuardIT®, and TransformIT® products that in concert shield apps against reverse-engineering of IP, tampering of code, key discovery and other man-at-the-end (MATE) attacks. Together, these products deliver unprecedented cross-platform mobile application protection available for multiple operating systems, architectures and languages, enabling Arxan's customers to customize protections that target their unique security requirements.
Arxan's Mobile Application Protection Suite provides best-of-breed mobile security through its ability to deliver:
– Tunable level of robustness (ability to layer protections) that is sensitive to existing device specifications such as battery usage, performance and usability
– A vast array of out-of-the-box protection techniques
– Proven application level Integrity
– End-to-end Android application protection (Java and Native)
Arxan's software security solutions for native or managed code, provide automated defend, detect and react capabilities by deploying various security techniques (called Guards) such as obfuscation, checksum or anti-debug directly into the software code of each app to harden binaries against discovery and compromise. The technology protects against tampering and reverse-engineering of code and IP in a durable and proven manner which does not impact source code, application functioning or the development process.
"Savvy organizations recognize that the application is the new security perimeter," said Mike Dager, chief executive officer, Arxan Technologies, Inc. "As the 'app economy' evolves, so too we are seeing the need for mobile application protection and the need to address new security threats as they emerge. Large enterprises, financial institutions, digital media entities, and game developers are turning to Arxan's defense-in-depth solutions to protect their IP and business models."
ABOUT ARXAN TECHNOLOGIES:
Arxan Technologies Inc. is a leading provider of software security solutions that protect applications from attack in distributed or un-trusted environments. We harden applications against tampering and reverse engineering for unauthorized use, piracy, and theft of intellectual property. Our advanced software protection solutions secure ISV, gaming publishers, digital media providers' and enterprise applications to proactively defend the integrity of code and business models. We defend, detect, alert and react to attacks through a threat-based, customizable approach. Proven, durable and resilient, Arxan's offerings support a full range of application protection needs, from commercial software to military grade assurance. Arxan Technologies has offices in Bethesda, MD, San Francisco, CA and West Lafayette, IN. For more information, please visit http://www.arxan.com.
###