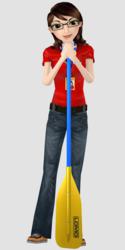 We are excited to be the first company in our market to offer potential customers an interactive guide to help plan their Colorado whitewater rafting vacation via the internet
Buena Vista, Colo. (PRWEB) April 09, 2012
River Runners, a whitewater rafting company on the Arkansas River in Colorado, has launched an interactive virtual river guide through the internet software company Code Baby, to engage and assist customers on the company's website for the 2012 Colorado whitewater rafting season set for April 14 – September 3 (Labor Day), 2012.
Site visitors must first click on the green 'GO' icon found on the company's landing page at which point the virtual river guide will appear on the bottom right-hand side of the webpage. Then they can click on 'Cyberleen' to prompt interaction.
"We hope this virtual guide will help customers navigate the variety of Colorado whitewater rafting trips we offer," said Scott Peterson, marketing director at River Runners. "Cyberleen will help customers identify what type of rafting adventure is most appropriate – whether it be a scenic float trip or the ultimate class-five rafting experience."
River Runners offers many trip options including whitewater rafting through the Royal Gorge in Canon City and overnight adventures from the Riverside Rafting Resort in Buena Vista. The new virtual river guide assists customers as they decide if they want to take on an extreme rafting experience, plan a family-friendly adventure or organize an overnight rafting expedition. Cyberleen also explains safety considerations everyone should know before going rafting.
"We are excited to be the first company in our market to offer potential customers an interactive guide to help plan their Colorado whitewater rafting vacation via the internet," added Peterson. "We make it possible to shop and book rafting trips online, but still have staff on-hand seven days if you would prefer to talk to a real person."
About River Runners:
River Runners is one of the most recognized whitewater rafting companies in Colorado and will celebrate 40 years in 2012. Vacationers can chose from three fully-staffed offices, a riverside campground, private launch site and public Riverside Grill. River Runners' extensive facilities, quality rafting equipment and river guiding experience is unrivaled by any other rafting outfitter in Colorado. To learn more go to http://www.whitewater.net.
About CodeBaby:
CodeBaby is an internet software company that helps businesses create high-quality, realistic digital character conversations that engage online customers to optimize results. With extensive analytics, CodeBaby provides extensive analytics to allow clients to track and tune conversations to achieve better results.