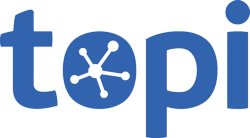 Topi helps people identify relevant professionals with similar interests and then helps foster interactions among event participants in ways no app on the market has been able to do so effectively.
New York, NY (PRWEB) December 03, 2012
Topi today unveiled a first-of-a-kind mobile app aimed at increasing interaction, on-site networking, and fostering rich conversations among and between business professionals attending industry conferences, meetings and events. Complementing its mobile app, Topi also provides a powerful, self-service website for conference chair and event organizers, which allows them to quickly create a branded, customized event, engage with participants via the app, and access rich real-time analytics. Topi is the first mobile offering directly addressing both the needs of conference organizers and event planners, as well as attendees. According to the Convention Industry Council, $263 billion is spent on 1.8 million meetings and events in the U.S. alone.
Topi Raises the Bar in On-Site Networking and Engagement Amongst Attendees
Most people go to conferences and events in order to meet their next business partners, enhance their subject matter expertise, identify prospective hires, seek job opportunities, or simply connect with others who share similar interests. Not only are these connections left entirely up to chance, but the whole experience often feels like looking for a needle in a haystack. Topi was designed to overcome this scenario head-on so participants can maximize their investment in every conference and event they attend. With Topi, connections are the starting point to richer conversations that can begin before an event, throughout its duration, and extend well after the event has concluded.
"Without question, Topi has nailed it with their mobile app for business professionals who want to network with each other in a simple but powerful way. Topi helps people identify relevant professionals with similar interests and then helps foster interactions among event participants in ways no app on the market has been able to do so effectively," stated Andrew Der, Senior Manager, Digital Strategy & Innovation at American Express and co-founder of NYC Marketing Mixer. "Our Marketing Mixer members have been using Topi every month with great reception, and the level of engagement and connections members have made with each other is exceptional."
Topi's powerful capabilities put conference, meeting and event organizers in the driver's seat to steer better engagement and adapt to a more mobile-centric attendee base of business professionals. In 2013, eMarketer is predicting there will be 137.5 million smartphone users in the U.S. ABI Research is projecting that by 2015, three-quarters of business users will be toting smartphones. With Topi, conference and event organizers can easily add a mobile element to stay in touch with their attendees and facilitate more relevant networking amongst attendees throughout the event. Further, Topi supports Android, iPhones/iPads and Windows phones, enabling planners to keep pace with the most popular devices that their attendees are using.
"We're excited to bring social networking to the conference and meeting industry. We believe the quality of a conference is strongly correlated with how engaged an audience is. At Topi, we've spent months understanding how to simplify networking between like-minded people, and have worked closely with conference organizers and event planners to understand what kind of functionality they needed. In the end, participants and organizers together will make any event better," said David Aubespin, co-founder and CEO of Topi. "While there are other mobile apps aimed at helping meeting and event planners share information for attendees to simply consume, we believe conference and event organizers will welcome the ease, speed, powerful capabilities and data that Topi uniquely delivers."
For attendees who want to expand their existing professional network to make new connections with other like-minded peers, Topi's cutting-edge features, include:

Simple sign-on via Facebook Connect, and integration with Twitter, Facebook, Foursquare, Instagram and LinkedIn.
Convenient one-click LinkedIn requests to invite other attendees to one's network without leaving the app.
Searchable view of all conference or event attendees, sorted by relevance to each event participant, immediately accessible upon launching the app.
Automatic suggestion of groups based on attendees' common affiliations and interest.
A "virtual lobby" for attendees to follow and participate in public conversations. Topi automatically facilitates group conversation around meaningful contexts, such as field of expertise or topics of interest it identifies as relevant.
A broad range of conversation options, from private on-on-one or group chat rooms to public ones. Topi also enables the sharing of pictures, recorded audio, rich maps, and sketches.
For conference and event organizers, highlights of Topi's capabilities include:
In-app notifications that can be scheduled ahead of time, or pushed out immediately to attendees, providing important messages or updates.
Instant, secure content distribution so attendees have immediate access to conference materials, such as presentations, the agenda, presenters' bios, speaker handouts, etc. Attendees can open the documents right in the Topi app, email themselves, or print a copy later for additional convenience.
Custom geo-fencing enables organizers to draw precise perimeters around different areas or locales, (i.e., a convention center, hotel or building). Attendees within the pre-defined perimeters, whether inside or outside the actual venue, can access the event on Topi, and still remotely participate in conversations, access event materials, etc. Event organizers can establish an unlimited number of geo-fenced areas to support concurrent satellite conference and event locations.
Poll and survey participants to gauge attendee sentiments in real-time and retrieve graphical results immediately. (No more delays to tabulate results days or weeks later.) All interactions can be scheduled ahead of time or sent instantly.
Rich audience analytics around attendees' professional backgrounds, interests, and demographics. Topi will also display aggregated usage data for each conference, which is relevant for organizers seeking insight on how to best update and improve an agenda, for example.
Twitter-like public chat feed of participants conversing amongst one another is easily viewable on the app. This public chat feed can also be projected onto a big screen during the conference or can easily be dropped as a widget onto the main conference or event homepage.
Branding with sponsors showcased within a customized event via the Topi app. Organizers can include sponsor logos that rotate within the app and can include a hyperlink back to their respective homepages, or any other website they choose. Sponsors can also work with event managers to push out branded event updates, materials, coupons, etc. directly to attendees.
Availability, Pricing and Mobile Platforms Supported
Topi is available for immediate download. The Topi mobile app is free and fully native versions are available for the iPhone, iPad, Android and Windows Phone. The cost for Topi only applies to conference organizers and meeting and event planners producing events. Formal pricing will be released by the end of the month. Topi is available worldwide with a mobile app already translated in English, French, Spanish, and Portuguese.
About Topi
Founded in 2011, Topi is the first mobile offering squarely addressing both the needs of the conference organizers, meeting and event planners as well as the attendees. Topi's breakthrough mobile app puts organizers in the driver's seat to steer better engagement and support a more mobile-centric attendee base of business professionals. Topi delivers unprecedented capabilities to business professionals who are interested in expanding their existing network with other like-minded peers who share similar interests. Topi excels at enabling engagement and rich conversations between and among business professionals by enhancing the ability to conduct lateral communications via an industry-leading, rich set of interactive features. Based in New York City, Topi is a privately-held company. For more information, interested parties can visit http://www.topi.com.
# # #
Press Contact:
Carmen Hughes
Ignite Public Relations
W: 650.453.8553
C: 650.576.6444
carmen(at)ignitepr(dot)com