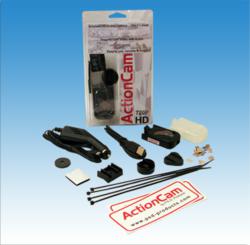 When was the last time anyone heard of a consumer being paid to use a product?
Rochester, NY (PRWEB) August 29, 2012
When was the last time anyone heard of a consumer being paid to use a product? Well P.E.D. Products, the creator of the smallest, most versatile, Helmet/Sports HD Video Camera on the market, the ActionCam, is doing just that.
Here's how it works, interested individuals, contact P.E.D. Products and ask for a Sales Lead Code (SLC). P.E.D. will then generate a Sales Lead Code that is exclusive to that individual. Any purchases that are made at the P.E.D. Products online store that enter the SLC in the "Discount Code" section at checkout, will receive a 5% discount on that order, and that individual's SLC will receive 10% of each sale, each time the code is used. All codes will be tracked through the website software, keeping track of that individuals tally. The customers earning potential is only limited by the decision not to participate! It's essentially a personal consumer affiliate program.
So the idea would be, to display or post a small write up, recommendation or comment about ActionCam on a favorite Facebook page, Bulletin Boards, YouTube, Vimeo, Clubs, Sanctions, Blogs, emails, Texts, Twitter, websites, etc , linking it to the P.E.D. Products website, and mention the SL code and it's benefits. That's it! That's all that is required, then just sit back and wait for the commissions to start rolling in. For individuals that plan to attend events and wish to have something to hand out, P.E.D. can provide product literature handouts that would be labeled with the SLC code.
Competitors often are asking for sponsorships; this could be viewed as just that. The sponsorship package is based on how aggressively the individual wants to promote the ActionCam.
This great opportunity to pay for your ActionCam, earn a supplemental income, or create additional sponsorship dollars. Interested individuals should contact P.E.D. Products for more information.
Sample videos can be seen HERE
For more information on the ActionCam and this program, visit the website, http://www.ped-products.com