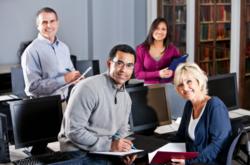 Los Angeles, CA (PRWEB) February 14, 2012
The National Financial Educators Councils' Adult Financial Literacy program launches to address the needs of low- to moderate-income citizens across the country. The NFECs' Financial Recovery Coursework provides the tools, training and resources needed to help organizations effectively educate the people they serve.
The NFECs' adult financial literacy programs provide turnkey resources to organizations looking to empower those they serve with a financial education. The Financial Recovery Coursework program consists of: financial literacy curriculum, PowerPoint presentations, multimedia learning centers, testing and comprehensive educator training – the NFECs' Certified Financial Education Instructor program. The stated goal of this financial education for adults program is to provide everything an organization needs to set up a proven personal finance program with significantly reduced costs and time requirements.
Current census data highlights that over half of all Americans are classified as living below the poverty line or as low income. The NFECs' adult financial education programs provide organizations the material that specifically addresses the needs of the LMI community and others that are going through financial challenges. Specific lessons within the coursework address common needs of this market: debt, improving credit rating, housing issues, banking essentials and other lessons that are important for those seeking to improve their personal finance situation.
Over the past twelve months, the NFEC conducted adult financial education workshops as the course was developed to understand the challenges facing everyday citizens. Many of the participants had one problem that spilled over into other areas of their life and caused them to get into financial hardships. The adult personal finance coursework teaches participants to be proactive and identify potential stumbling blocks early so they can effectively prepare to avoid undesirable consequences. Upon completing the NFECs' adult financial literacy workshops past participants reported they were "more confident" about their finances and had a clear plan to follow.
To design the financial education for adults program, the NFEC collaborated with financial education experts, educators and financial professionals. The resulting products meet educational standards while being practical in nature so participants can use what they learned in the 'real world'. The NFECs' Curriculum Advisory Board had a deep understanding of the LMI individuals and as mentioned on the website designed material to 'inspire, engages, educates and move them to take positive action toward their financial future'.
The National Financial Educators Council is a social enterprise organization that is committed to improving the financial capability of people of all ages. The NFEC's Financial EduNation Campaign provides complimentary adult financial literacy programs and turnkey money management solutions to organizations looking to share the message of financial literacy. The adult financial education programs provide all the material, training and resources organizations need to have an effective personal finance program.
###