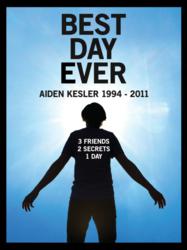 Everybody dies, but not everybody lives.
Toronto, Ontario (PRWEB) February 11, 2012
Teen found footage film BEST DAY EVER: Aiden Kesler 1994-2011 is available for rent and to purchase in HD and SD formats on iTunes Canada and on iTunes US. DVD's are available from http://www.aidenkesler.com. Documenting the teen's antics and ever escalating hijinxs with friends, Reese and Melissa, the footage reveals a young man's struggle with mortality set against the backdrop of Jackass-like pranks.
After this footage was seen by Producer Adria Budd Johnson of Best Film Ever Productions "It was obvious that we needed to make it available for others to witness Aiden's crazy and touching best day ever". Best Film Ever Productions cleaned up the footage into a film format and act as distributor.
"Aiden's story is unique because we get this incredibly personally glimpse into a transformative day for him. Yes he's struggling with his cancer and wondering what he'll be like during and after the chemo." Adria adds, "But he's also taking the reins of his life, standing up to the school bully, challenging authority, breaking rules and making his own up."
Being featured on the "What's New and Noteworthy" section of the iTunes Canada Comedy section might seem odd for a film with the subject's year of death in the title. "The kids try all sorts of crazy things during their day. The first thing Aiden does is fart on his 14 year old sister while she's sleeping" Adria shakes her head, "We all live, we all die, we all fart."
Find out more about Aiden Kesler and purchase the dvd go to http://www.aidenkesler.com. To rent or download the film go to iTunes Canada or iTunes US. Follow Aiden Kesler on Facebook or @AidenKesler on Twitter.
###