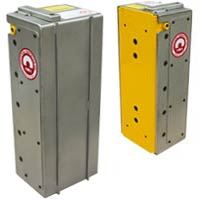 (PRWEB) October 25, 2012
Industrial Magnetics, Inc. introduces the new Air Spring Fanner series of sheet/blank separators that gives on/off capability to a permanent magnetic fanner for safe and easy stack changeovers or relocation of the magnet.
Permanent Magnetic Sheet Fanners are used in both manual and automated applications to quickly and easily separate a stack of steel sheet stock, which can be difficult due to the oily coatings that protect the sheet's surface. However, because Permanent Fanners are "always on", there is a risk of having metal accidentally attracted to the fanner during stack changeovers or when transporting the magnet to a new location in the plant.
The Air Spring Fanner Series features a unique On/Off system that pushes the permanent magnetic circuit into the "On" operating position when air pressure is present. When the air pressure is turned off or disconnected, the magnetic circuit will return to "Off/Fail-Safe" mode. As the Air Spring Fanner utilizes a closed system, much like the air pressure in a tire, air usage is minimal.
Ideal for the Automotive, Office Furniture, Appliance, Stamping and Fabrication industries, the Air Spring Magnetic Fanner features a powerful, Rare Earth permanent circuit to fit a wide variety of applications from 30 gauge sheets to 3/16" plate. The industrial, welded stainless cover can survive tough environments and a handy on/off indicator alerts the operator as to whether or not the fanner is safe to operate or transport.