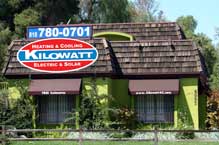 I highly recommend the Kilowatt Company. They are very professional and have a "take care of business" attitude that gets done quickly but properly. My kitchen looks just as beautiful as it did on paper
Sherman Oaks, California (PRWEB) August 11, 2012
A media representative for Kilowatt, an air conditioning in Van Nuys heating and cooling business, today announced the company is now offering home remodeling services to its client base in the San Fernando Valley. Kilowatt provides cost effective bathroom and kitchen renovations, whole home remodeling, insulation, roofing and garage remodeling.
As part of the new service, the company acquired a general building contractor's license which is a state requirement. The license is also a good way to show customers Kilowatt is more than qualified to perform home remodeling services. One of the principals at the company said, "We're excited about being able to help families create a beautiful home."
He went on to say that a remodeling job can increase the value of a home instantly. A new or remodeled kitchen will enhance the quality of life for the homeowners as well as add $30,000 to $40,000 to the price of the home. The AC repair in Van Nuys company will incorporate any air conditioning system into the remodeled area of the home seamlessly.
"I highly recommend the Kilowatt Company. They are very professional and have a "take care of business" attitude that gets done quickly but properly. My kitchen looks just as beautiful as it did on paper and I don't dread making coffee in the mornings anymore."
In addition to serving Van Nuys and the San Fernando Valley, the company provides AC repair in Encino, California. Kilowatt maintains a large customer base of homeowners and commercial property managers all of which enjoy the company's low prices and high quality craftsmanship. In fact, Kilowatt consistently receives positive reviews on Angie's List and a host of other business review websites which is a good indication of their quality work.
Consumers who are considering remodeling their kitchen or any other part of their home are encouraged to contact Kilowatt for a free estimate. One of the company's executive account managers will answer any questions and provide a time frame on the expected project completion date.
About
Kilowatt is a licensed, insured & bonded air conditioning, heating and electrical service company. We install complete AC and furnace systems, duct work, repairs, trouble-shooting and maintenance. We service all makes and models of heaters and air conditioners and almost all electrical appliances.
Contact
Kilowatt Heating, Air Conditioning and Electric
4925 Sepulveda Blvd.
Sherman Oaks, CA 91403
Phone: (310) 278-0701
Fax - (818) 780-0791
Email: sales(at)kilowattac(dot)com
Website: http://www.kilowattac.com/