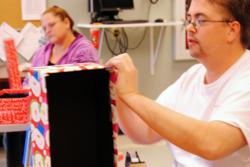 Operation Christmas Child offers us a unique opportunity to make a small difference in the lives of children worldwide.
Milwaukee, Wisc. (PRWEB) November 28, 2012
Alpha Source, Inc., a multi-vendor medical equipment parts distributor, sent 100 shoeboxes filled with gifts to Operation Christmas Child, a project of Samaritan's Purse that delivers gifts to children worldwide. Alpha Source, Alpha Source employees, and local businesses including Allen Edmonds Shoe Corporation, Dental Professionals of Germantown, Eggers Imprints, and Visual Impressions donated items for the cause. The gifts will be delivered during the Holiday season.
Alpha Source employees wrapped and stuffed 100 shoeboxes with various items including toothbrushes, toothpastes, washcloths, t-shirts, soap bars, dolls, noisemakers, calculators, crayons, activity books, and other items. The gift-filled shoeboxes will be delivered to boys and girls all over the world. Children receiving the gifts range from ages two to fourteen.
Alpha Source and its employees donated various hygiene products, toys and school supplies. Allen Edmonds donated empty shoeboxes. Eggers Imprints donated t-shirts. Dr. Thomas Albiero of Dental Professionals in Germantown donated toothbrushes and toothpastes. Visual Impressions donated t-shirts and baseball caps.
"Operation Christmas Child offers us a unique opportunity to make a small difference in the lives of children worldwide. This project has brought our employees and local businesses together," said Norine Carlson-Weber, president of Alpha Source.
This year, Operation Christmas Child expects to deliver its 100 millionth shoebox since the project began in 1993. This is the fifth year Alpha Source has donated to Operation Christmas Child.
About Operation Christmas Child
Operation Christmas Child is a project of Samaritan's Purse, an international Christian relief organization that responds to physical and spiritual needs of individuals in crises. Operation Christmas Child collects shoeboxes in the United States, Canada, Australia, Austria, Finland, Germany, Ireland, New Zealand, Spain and the United Kingdom. Operation Christmas Child delivers boxes to children in more than 100 countries on six continents.
About Alpha Source, Inc.
Located in Milwaukee, Wisconsin, Alpha Source, Inc., a WBNEC certified company, provides innovative solutions in procurement and logistics for a variety of industries including healthcare and government. Established in 1986, Alpha Source is an ISO13485:2003 battery pack manufacturer with an emphasis on products used in medical and technical applications. Alpha Source distributes a variety of medical equipment parts including medical lamps, batteries, monitoring accessories, fiber optics, O2 sensors, power protection products, diagnostic Instruments and supplies, and mounting solutions. For a complete list of products or for more information on Alpha Source, visit http://www.alphasource.com or call 800.654.9845.
###