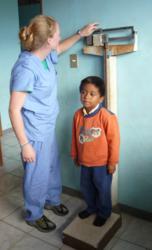 AMSA and CFHI share a common advocacy and social justice agenda.
Houston, TX (PRWEB) March 09, 2012
Child Family Health International (CFHI) is pleased to announce it has become an official partner of the American Medical Student Association (AMSA). Both nonprofit organizations work to provide training and education to students pursuing careers in medicine. AMSA is the oldest and largest independent association of physicians-in-training in the United States and CFHI is the leading nonprofit providing global health educational experiences in developing countries to students pursuing health-related fields.
Steven Schmidbauer, Executive Director of CFHI and co-author of an Oxford University Press chapter on global health ethics, commented, "The goal of our partnership with AMSA is not only to raise awareness about CFHI among AMSA membership, but also to help AMSA better inform its members about global health electives abroad. Today more students than ever are interested in global health. Many of them want to take part in a medical elective abroad or a clinical or public health rotation outside of their home country. We want them to learn to ask the right questions and to be able to approach global health opportunities and subsequent patient interactions from a well-informed cultural and ethical awareness."
"The partnership between AMSA & CFHI began in late 2011 but will be rolled out in large part this week at AMSA's 62nd Annual Convention & Exposition in Houston, Texas where CFHI will be heavily involved", said Rebecca Lubitz-Marchena, CFHI's Outreach and Development Manager. More than 1,000 physicians-in-training and leaders in medical education and health policy will gather at the Convention over the next four days where they will be addressed by Health and Human Services Secretary Kathleen Sebelius and other leaders. Sessions will focus on advocacy, professionalism, public health, and international health. Jessica Evert, MD, CFHI's Medical Director and clinical faculty member at the University of California, San Francisco, remarked "AMSA and CFHI share a common advocacy and social justice agenda, and our ultimate goal is that students make informed and socially responsible choices when choosing international rotations as part of their training to become health professionals." Dr. Evert will present on behalf of CFHI at the AMSA Convention on national standards for global health education programs and on a strengths-based model for projects to improve global health.
CFHI will be at the AMSA Convention March 8-11 at the Hyatt Regency Houston. CFHI will be present at national and international conferences throughout 2012, conducting workshops on global health themes and connecting with students pursuing a variety of health professions.
About CFHI
Founded in 1992, CFHI (http://www.cfhi.org) is a non-government organization (NGO) operating at the grassroots level to provide transformative global health education experiences and community empowerment in underserved communities around the world. CFHI offers 20+ Global Health Education Programs designed to broaden students' perspectives about global health - as well as a variety of community health initiatives and projects - in developing countries including Bolivia, Ecuador, India, Mexico, and South Africa. More than 6,000 students have participated in CFHI programs to date. CFHI has been granted Special Consultative Status with the Economic and Social Council of the United Nations (ECOSOC). ###