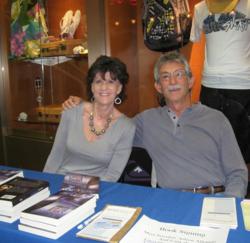 Given the response of my first 2 novels, I'm very excited to announce my 3rd novel coming out later this summer!
(PRWEB) February 27, 2012
After writing her first Darcy Farthing novel, "Currents Deep and Deadly," chronicling the South American adventures of Darcy aboard the Sea Nymph, where she overhears a murder for hire plot and, eventually, must confront a vicious killer, Alleman was inspired to bring Darcy back for a second adventure by the reviews of her readers. Alleman received almost exclusively five star reviews on Amazon and other sites; readers praised the intelligence that Alleman brings to the mystery genre and the impossible-to-put-down plot.
The Darcy Farthing series is a unique blend of elements: it reads like a travelogue of South America and the Caribbean, there are detailed descriptions of the ship to appeal to detail-oriented analytical minds, and there are a wide range of timely and relevant themes that include PTSD, adoption, and accountability for crimes committed at sea.
Readers have unanimously agreed that there is something for everyone in the Darcy Farthing mystery adventure series, positioning Arleen Alleman as a true master of the genre. The second book, "Currents of Vengeance," will undoubtedly keep readers of all types awake all night, furiously turning pages as Darcy and company encounter more madness and adventure at sea.
The Darcy Farthing Mystery Adventure Series
Alleman's series centers around Darcy Farthing, a pragmatic woman in her forties, who readers were first introduced to in Currents Deep and Deadly. After coming face to face with a vicious murderer in the first novel, she wrote a book about the madness she confronted, which completely changed her life, both personally and financially. The third installment in this page-turning series, Current Assets, is slated for release in Autumn of 2012. To watch the book trailers, visit http://www.arleenalleman.com/trailer.htm.
Arleen Alleman
Arleen Alleman spent 21 years as an analyst for the Government Accountability Office. After retiring from the GAO, Alleman and her husband became avid cruisers, which inspired her to write stories set on cruise ships. In her two six-week cruises around Cape Horn; the first was spent writing her book and the second was spent doing book signings and promoting her books. For more about Arleen Alleman, visit her website http://www.arleenalleman.com/ or follow her on Twitter @AAllemanWrites.
###