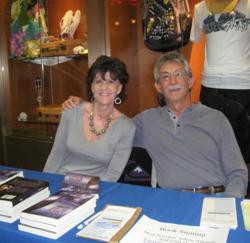 As ABC News's 20/20 illustrated in the piece "Cruise Ship Confidential" on the January 20th episode, cruise ship safety is a growing concern.
Castle Rock, CO (PRWEB) February 19, 2012
In her Darcy Farthing mystery adventure series, author Arleen Alleman uses fiction to treat this series issue, bringing the unprosecuted crimes at sea to light through dynamic stories centered around her pragmatic protagonist, Darcy Farthing, and her adventures aboard the Sea Nymph. In the first novel, Currents Deep and Deadly, Darcy overhears a discussion of a murder for hire plot and members of the crew begin to die under circumstances that are nothing less than suspicious.
After confronting a vicious killer in the first novel, Darcy believes that all of the madness aboard cruise ships is behind her; however, nothing could be further from the truth. In Currents of Vengeance, Darcy and company return to the Sea Nymph to conduct a Government Accountability Office/FBI Congressional investigation of unprosecuted crimes on cruise ships. Their investigation hopes to bring ruthless Las Vegas casino owner, Paul Denezza, to justice after eluding prosecution for the violence on the previous cruise. In the second novel, Darcy will come face to face with even more madness.
While Alleman's stories are both fictional, they both highlight the very real possibility of a ruthless killer eluding prosecution under the current laws. Currents Deep and Deadly and Currents of Vengeance not only entertain their readers, but they also call attention to the oft-overlooked issue of crimes at sea, making a serious case for significant change.
The Darcy Farthing Mystery Adventure Series
Alleman's series centers around Darcy Farthing, a pragmatic woman in her forties, who readers were first introduced to in Currents Deep and Deadly. After coming face to face with a vicious murderer in the first novel, she wrote a book about the madness she confronted, which completely changed her life, both personally and financially. The third installment in this page-turning series, Current Assets, is slated for release in Autumn of 2012. To watch the book trailers, visit http://www.arleenalleman.com/trailer.htm.
Arleen Alleman
Arleen Alleman spent 21 years as an analyst for the Government Accountability Office. After retiring from the GAO, Alleman and her husband became avid cruisers, which inspired her to write stories set on cruise ships. In her two six-week cruises around Cape Horn; the first was spent writing her book and the second was spent doing book signings and promoting her books. For more about Arleen Alleman, visit her website ArleenAlleman.com/ or follow her on Twitter @AAllemanWrites.
###