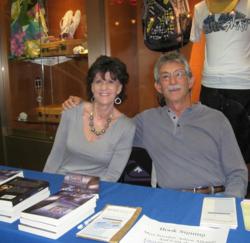 My hope is 'Currents of Vengeance' is not only an enjoyable and entertaining read but also gets some productive conversation started about safety aboard cruise ships
Castle Rock, CO (PRWEB) March 05, 2012
Criminals are almost protected within cruise ships, where the law of international waters and ports becomes murky. In her Darcy Farthing mystery adventure series, author Arleen Alleman explores the lawlessness that pervades luxury cruising. In the first novel, Currents Deep and Deadly, protagonist Darcy overhears a murder for hire plot, after which crew members begin to mysteriously disappear; in a nail-biting denouement, Darcy must confront a vicious killer.
In the second novel, Currents of Vengeance, Darcy and company return to the Sea Nymph to use it as a case study for a joint investigation by the Government Accountability Office and the FBI. Paul Denezza has not been held accountable for the violence on the last cruise and the team, comprised of Darcy, her now-boyfriend, Mick, and Tom, the former chief of security on the Sea Nymph, plan to use the investigation to find evidence against him.
While this undoubtedly makes for page-turning stories, readers should not ignore the sinister truth that is brought to light within these stories. Alleman's novels, the January 20th 20/20 investigative report, "Cruise Ship Confidential," and the headlines of the last week make it impossible to deny that accountability at sea is a topic that deserves more attention from media, cruise line officials, and lawmakers.
The Darcy Farthing Mystery Adventure Series
Alleman's series centers around Darcy Farthing, a pragmatic woman in her forties, who readers were first introduced to in Currents Deep and Deadly. After coming face to face with a vicious murderer in the first novel, she wrote a book about the madness she confronted, which completely changed her life, both personally and financially. The third installment in this page-turning series, Current Assets, is slated for release in Autumn of 2012. To watch the book trailers, visit http://www.arleenalleman.com/trailer.htm.
Arleen Alleman
Arleen Alleman spent 21 years as an analyst for the Government Accountability Office. After retiring from the GAO, Alleman and her husband became avid cruisers, which inspired her to write stories set on cruise ships. In her two six-week cruises around Cape Horn; the first was spent writing her book and the second was spent doing book signings and promoting her books. For more about Arleen Alleman, visit her website http://www.arleenalleman.com/ or follow her on Twitter @AAllemanWrites.