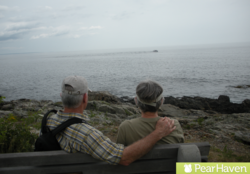 "If you haven't done anything new for a while together — do it now."

Austin, TX (PRWEB) September 25, 2012
Twelve autumn date ideas from PearHaven help couples over 50 remember the romance and joy they once felt. They may just need some new date ideas to avoid boredom and to keep communication open between each other.
Lifesyles at age 50 and over change, but exploring the world and looking for new adventures together can help keep a relationship fresh. AARP featured Dr. Pepper Schwartz 's article, "A Maintenance Plan for Your Marriage." Dr. Schwartz writes "Things may be fine day to day, but the mood of your relationship may need to be revitalized. We are all so busy these days that we often forget to look at the fun index and see that it's dangerously low. " Dr. Schwartz's suggestions include "If you haven't done anything new for a while together — do it now."
Here are some ideas to help revitalize relationships and keep couples interested in each other. Pearhaven offers twelve autumn date ideas that are inspirational for any generation.
1. Visit a National Park for Fall Foliage: There are plenty of protected national forests, but it is necessary to contact each park to see which fall colors are at their peak. Be sure to check out Acadia National Park in Maine where visitors can park their cars and ride a free bus. With plenty of great transportation all over the park, couples may want to bypass the hiking.
2. Plan a picnic date to a vineyard: Enjoy a peaceful afternoon at a local vineyard. Try some regional wine and see some beautiful scenery. From Texas Hill Country vineyards, Oregon wineries to east coast wineries, couples can have a pleasurable fall picnic before the snow comes.
3..Oktoberfest is coming up and now is the time to make plans to attend. This German tradition consists of German oompah bands, dancing and lots of German food such as bratwurst and knockwurst. Oktoberfest is celebrated around the US. Another option, fly to Munich.
4. Take me out to the Ball Park. Go to America's favorite national pastime, baseball. Haven't been to a baseball game in a long time? Just look up a local baseball team and find their playing schedule. Some tickets sell as cheap as $6, so why not go?
5. Community service date is year round: Plan a weekly date with your loved one and walk the dogs at your local animal shelter; pets provide cheerful companionship. Studies show pet owners seem to have decreased blood pressure, cholesterol and triglyeride levels.
6. Time to go to the orchards for apple picking: Feel the cool air, pack a picnic and get lots of exercise. Fall is a refreshing time to be outdoors. Pick some apples and make a pie together or deliver it to someone in need.
7. Auto racing: Formula 1 racing, United States Grand Prix 2012 is in Austin, TX , November 2012; check the schedule for more information about dates and locations of these international races.
8.. Train Date: Go back in time and take a train ride. View the countryside from the train and let someone else do the driving. Couples can find these train rides in Texas, Ohio, California to Switzerland. It is a relaxing and fun way to spend time together.
9. Beach dates: Fall's crisp chilly air is invigorating and couples will find no crowds at the beaches; hang out, listen to the surf, hunt for seashells and reconnect with each other.
10. College Football date: fall is the time for football. Check out your local college and watch the game in person. Invite friends and tailgate. Bring back memories; feel young again.
11. Take a ferry ride. Visiting San Francisco? Take the ferry from San Francisco to Sausalito or Tiburon and have dinner with a view of the bay and city. Or,ride a bike across the Golden Gate Bridge and catch the Sausalito ferry back to San Francisco. Visiting the east coast? NYC Staten Island ferry is free with views of the Statue of Liberty and Ellis Island so go round trip.
12. Fly to New York for a week of Broadway shows. Plan the trip in advance and get tickets. Read reviews of the shows to avoid missing the top shows and get tickets ahead to avoid long ticket lines.
More than dinner and a movie website, PearHaven encourages and promotes a couple's long-term romantic relationship. PearHaven.com uses different features to keep couples romantically involved with each other. The website suggests and maps out new date ideas. The website also offers a fun game-like design called gamification where couples are rewarded achievement badges for their date experiences such as going on dates in different cities or connecting with other couples.
PearHaven's new iPhone App offers date ideas on-the-go. PearHaven's blog features relationship advice, dating ideas and dating trivia. With more options of competitive or game-like date ideas available to earn achievement badges, a place to share memories and photos, PearHaven couples have a place where they can enrich their dating experiences and strengthen their relationships.
About PearHaven
PearHaven is not a dating site.
It is a social website with free sign-ups for people of all ages who are dating, engaged or married. Members can record their dating experiences, connect with others, post photos and earn achievement badges for trying new date ideas. PearHaven.com suggests new date ideas and maps the locations.The website was founded by David Lackey, a student at Princeton University. PearHaven has a new free iPhone App available at the App Store to record date ideas on-the-go.