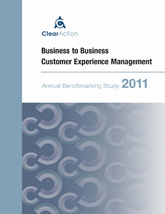 As the sole global survey of business customer management, this research provides inspiration to maximize value, differentiation and profit.
Sunnyvale, CA (PRWEB) May 11, 2012
The 2012 ClearAction Business-to-Business Customer Experience Best Practices Study shines a beacon on the industrial sector's achievements in customer experience excellence. As the sole global survey of business customer management, this research provides inspiration to executives who want to maximize value, differentiation, and profit.
Customer experience practitioners participating in the study will characterize their ongoing journey toward superior business customer experience in these areas:

Hearing the customer voice and building an accurate view of customer's world
Nurturing customer-focus in employee and organizational habits
Use of customer experience management technology and cultural tools
Investments in customer profitability, knowledge, and well-being
Role of customer experience as demonstrated by top management's practices
Customer experience management goals, obstacles, and achievements
This third annual study provides extensive opportunities for managers to share stories of their progress in customer-focus, customer well-being, and customer profitability. Such stories are rare within customer experience literature which primarily focuses on business-to-consumer examples and achievements. Business-to-business customer relationships tend to be more complex and extensive than consumer relationships, with substantially larger finances at stake. The 2012 questionnaire consists of about two dozen multi-faceted questions to comprehensively gauge current practices in customer experience management.
The second annual study explored the motivations behind customer experience management and its linkages to corporate goals, strategy, culture, processes, and business results. Seven success factors were identified, including coordination among customer experience managers, presentation of survey results to all employees, action on survey results by owners of loyalty key drivers, and cross-organizational collaboration. The 2010 baseline study examined the functional owners of various customer experience programs, and the scope of organizational deployment.
Customer experience management (CEM) is an emerging discipline that is a composite of customer service, voice of the customer, co-innovation, experiential marketing, customer relationship management, customer references, internal branding, and similar efforts. To participate in the 3rd Annual ClearAction Business-to-Business Customer Experience Management Best Practices Study survey, contact benchmark(at)clearaction(dot)biz.
About ClearAction
ClearAction is a customer experience consulting firm that helps organizations build enterprise-wide customer-focus and customer experience innovation. ClearAction's skills and 20 years of pragmatic experience in customer satisfaction, quality, marketing, and organizational development catalyze value from customer feedback by applying it to daily decisions and processes company-wide. Lynn Hunsaker, head of ClearAction is author of three ebooks: Innovating Superior Customer Experience, Metrics You Can Manage for Success, and Customer Experience Improvement Momentum.