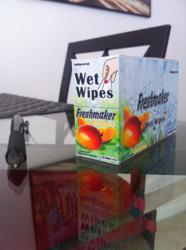 "We are going to the local schools in our area to give away Freshmaker Wipes to raise awareness for kids"
Miami, FL (PRWEB) August 07, 2012
Between the amount of fall clothes and supplies needed to ship a student back to school, parents can often become overwhelmed by lists and forget some of the other important items that may not be included in a teacher's required supply list. School environments can prove to be a breeding ground for harmful pathogens, Freshmaker's wet wipes provide a simple solution to combat the spread of harmful germs and bacteria that may be picked up while the kids at school.
According to Freshmaker, the amount of germs and bacteria that gets airborne is insane. Since kids are always sharing with classmates, sneezing, coughing and talking to each other all day, the increased risk of a child coming in contact with foreign bacteria and germs is inevitable. However, with the fresh, fun and fruity scents offered by Freshmaker, parents can send their kids off to school confident that they are arming them with a deliciously scented, alcohol-free and anti-bacterial defense against pathogens.
Freshmaker intends to reach out with their message. "We are going to the local schools in our area to give away Freshmaker Wipes to raise awareness for kids," says, Freshmaker President, Alexandre Tchogorian.
All wipes are safe for the whole family and are engineered specifically for providing an on-the-go, easy-to-use clean feeling. Freshmaker wipes come in four different scents, including: melon, tropic, strawberry, and apple. Each scented variety is softer on hands and cleans better than a liquid sanitizer.
Products are available at select Shell, BP, Citgo gas stations and privately owned super-markets across Southern Florida. For more information regarding the Freshmaker wet wipe, reviews, images, promotions, and where to find wipes in stores, visit their page on Facebook.
About Freshmaker Wet Wipes:
Freshmaker started many years ago in Turkey. After gaining popularity among consumers in Europe, Alexandre Tchogorian decided it was time to bring the wipes to United States. This company has created a new concept to wet wipes. They're indulged with four different fruit scents to give users an on-the-go easy to use clean feeling.
Contact:
Alexandre Tchogorian
(305) 384-8182