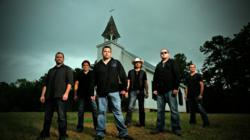 Becoming one of the top country music groups in the music world
Nashville, TN (PRWEB) July 28, 2012
Global Maximus Records, a leading independent music label announced today that rising country stars 'BadHorse' has been nominated for best Vocal Duo of the Year by the Inspirational Country Music Association.
The group reached the #2 spot on the Country Inspirational Charts earlier in 2012 leading to the nomination with 'I Still Love Them'. The single is one of five songs the group contributed to the 'Brothers' Keeper' movie soundtrack.
"We are extremely proud of 'BadHorse' and the amazing work of art written and performed by the guys." states Randall James, CEO of GMR "As we have always said about 'BadHorse', these guys are worthy of all recognitions and awards, they are simply poised to continue the march to becoming one of the top country groups in the music world." James concluded
The movie 'Brothers Keeper' star's Travis Tritt among other notable Hollywood actors with the group being showcased in a off character role in the film performing as a 1950's rock & roll band.
The inspirational drama is due for release into theaters in the upcoming months and has surprised most all critics as to its high quality production and inspiring storyline.
The group is also scheduled to appear later this fall performing on the new 'Maximus Overdrive' music on-demand live interactive show. The program is a fully interactive real time streaming broadcast for on-demand systems in retail and hospitality.
For more information on 'BadHorse' http://www.badhorsemusic.com