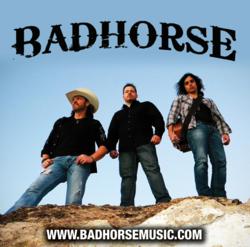 Nashville, Tennessee (PRWEB) January 03, 2012
Global Maximus Records (GMR), announced today the worldwide release of 'BadHorse' Music Video "Its All Good". The music video will be sent to all media distributors for television, Internet and global IP networks.
The music video features special guest, Terry Bradshaw who took part in the shooting of the feel good sing-a-long song's video. Mr. Bradshaw played the guitar during the filming of the video and provided another level of excitement during the shoot enjoyed by all.
Global Maximus Records wants every music fan around the world to enjoy the music of Country's new bad boys in 'BadHorse'. The video is the most advanced means of introduction to the worldwide audiences of 'BadHorse'
Password to view the video is: badhorse
For more information on 'Badhorse' visit http://www.BadHorseMusic.com or http://www.MusicatGMR.com
###