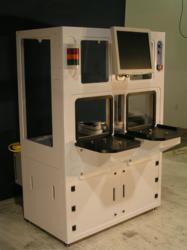 "In our field, materials are very important to the outcome of the wet bench or clean room cabinets' performance and looks," said BBF's Scott Funge. "With Flametec PVC-C, its thicknesses are consistent and we get nice clean cuts, routs and strong welds."
(PRWEB) September 29, 2012
It's the all-American success story: Bryant and Brenda Fitzgerald began fabricating pieces of cabinetry for the semiconductor industry in their Wilsonville, Oregon garage in 1996—capitalizing on the industry's boom in Silicon Valley, which had spread to the Portland area. They called the business Portland Semiconductor. As the demand for fabricated components grew and the business along with it, the Fitzgeralds incorporated the company as BBF, Inc. (to represent their combined initials), now with 35 employees in a 20,000 sq ft. facility. Recently, company executives Scott Funge and Jared Jenson have purchased the thriving business (now renamed BBF Technologies) from the couple, as projections for the worldwide semiconductor industry continue to be positive.
With current semiconductor and solar forecasts, it's no surprise that BBF Technologies has honed in on wet bench tools. It is apparent that their wagon is hitched to a rising star, as semiconductor manufacturing is one of the top export industries in the U.S., with about 50% of the world market share. The World Semiconductor Trade Statistics organization forecasts 2.6 percent growth in world semiconductor sales to $310 billion in 2012 and 5.8 percent growth in 2013 to take the chip market to $328 billion. As BBF's expertise in building this semiconductor processing equipment has grown, so has their use of high-tech PVC and polypropylene materials and techniques that are conducive to the production of quality semiconductor wafers.
According to Funge, the company is servicing the needs of one of the largest chip manufacturers in the industry. The core of the business is in fabricating and machining components used in the manufacture of semiconductor wafers used for integrated circuitry in electronics. These range from large wet benches, analytical testing benches, clean room cabinetry, chemical distribution containers and valve boxes. Because of the risk of smoke and chemical toxicity in the manufacturing process, the materials used must be fire or chemical rated in the case of valve boxes, which deliver chemicals to the wet bench's fab. Corrosive acids are introduced through a pumping cabinet to etch the wafers.
BBF Technologies uses Flametec materials from Vycom, a line of fire-retardant, chemical and moisture-resistant materials with a standard ANSI FM-4910 rating that makes it easy for BBF to select the proper products. FM-4910 compliance is a designation given to a material that passes the Factory Mutual test for fire propagation and smoke density. They also find the Flametec PVC-C product very easy to fabricate and weld. The wet bench components must have strong welds to prevent leaks during their customers' manufacturing of wafers. One leak can be very costly and detrimental to an entire batch of wafers. The PVC-C resists abrasion and bacteria, reducing the risk of contamination. It is also low-maintenance and easy to clean.
"Our welders are highly trained and find that consistency of the material is a big part of the welding process—you get comfortable with certain temperatures required for a good weld," Funge explains. "They see how it's melting and if it's too hot they can tell. Burn marks do not compromise the weld, but it can create a less desirable look for the wet bench. With Flametec, our workers achieve both a strong weld and nice aesthetics ."
In addition to the growing semiconductor industry, BBF fabricates similar equipment for solar technology, which uses less complex wafer etching and polishing and doesn't require the highly sterile environment of semiconductors. The company also serves the plating (tanks), medical and biotechnology industries.
"In our field, materials are very important to the outcome of the wet bench or clean room cabinets' performance and looks," said Funge. "We always know what we're getting with Flametec PVC-C-- its thicknesses are consistent, we get nice clean cuts, routs and strong welds."
Funge said BBF relies on Flametec PVC-C as a good standard for FM 4910. "Flametec takes all the guesswork out of the fabrication of these large scale tools," he said. "It ensures a safe piece of equipment designed to protect workers and the fab from toxic smoke damage Funge said the extensive quality testing BBF does on the semiconductor tools is validated by the great reviews from customers on craftsmanship, aesthetics and performance.
About Vycom:
Vycom, a division of CPG International, is dedicated to maintaining an environment where quality meets performance. Vycom offers the largest range of products, capabilities and inventory for all your Olefin and PVC needs. For more information, visit http://www.vycomplastics.com.
About BBF Technologies:
BBF Technologies is a leading semiconductor equipment and industrial process equipment manufacturer. Serving the electronic, medical, research, pharmaceutical, biotech and metal plating industries, we provide specialty design solutions coupled with on-time delivery. We maintain stringent quality standards for all our products. Our mission is to provide products that are designed and manufactured to exceed our customers' expectations. For more information, visit http://www.bbftechnologies.com.