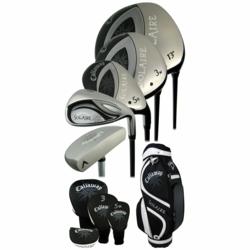 Edison, NJ (PRWEB) September 28, 2012
Beach Camera, one of America's most trusted names in cameras and electronics since 1983, is proud to announce that, in response to requests from its many customers, it is expanding its online offerings to include the latest in golfing gear, personal apparel, and luggage. Beach Camera will now not only be working to maintain its reputation as one of the top vendors of quality cameras and photography gear, it will also be working to establish itself as a provider of high-quality sporting goods, clothing, and luggage.
For seasoned golfers or for those looking to get started in this sport, Beach Camera has expanded its list of sporting goods to include products from Callaway, one of the top names in golfing gear. Callaway's clubs and other golf-related gear are well-known for its quality and attention to detail, helping golfers to get their score down to under par instead of being bogged down in the sand trap. Beach Camera is also expanding its apparel and accessories line-ups to include clothing from Callaway designed to help bring out everyone's inner driver and help them make it to – while saving plenty of – the green.
For all the travelers hitting the road this season, Beach Camera has expanded its luggage line-up with the latest products from Samsonite. Samsonite has long been known as one of the more dependable and durable names in luggage. Whether traveling just over the river and through the woods or across the trackless oceans, Samsonite helps keep travelers' clothes safe, secure, and ready for their arrival and adventures in foreign climes.
Lastly, Beach Camera is still running a sweepstakes centered around the Sony Action Cam. This camera from Sony is tailor-made for adventurers. With a rugged housing, plenty of strap- or snap-on mounts, this video camera can capture the wildest, wettest adventure and broadcast it over the Internet with its built-in WiFi connections. Entrants who wish to win this camera must simply navigate to the Beach Camera Facebook page and "Like" the sweepstakes application, enter their email, and then they will receive a chance to win. This sweepstakes will end on September 30, however, so entrants are encouraged to act quickly.
Beach Camera is dedicated to bringing its customers the latest news in the world of photography and photography gear. Beach Camera has also been a long-trusted provider of some of the best value in cameras and electronics since 1983. To help its customers get the best price for the best gear, Beach Camera offers free shipping on most of its products.
ABOUT BEACH CAMERA
Beach Camera is a family-owned and operated online retailer based in Edison, New Jersey. Founded in the state of Maine in 1983 under its parent company, Beach Trading Co., Beach Camera specializes in selling photography equipment, digital cameras, and consumer electronics to the American consumer. Beach Camera works with many of the major CE Manufacturers such as Canon, Nikon, Samsung, Sony, LG, Hewlett Packard, Cuisinart, SanDisk, and Toshiba to make cameras, consumer technology, and electronics affordable and available to the widest market possible. BeachCamera.com also offers free shipping on most products as well as a 45-day return policy on items purchased from their website or store.