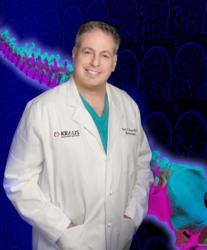 Becker's Spine Recognizes Gary Kraus MD (Houston Neurosurgeon) Among 60 Spine Surgeon Inventors
Houston, TX (PRWEB) October 01, 2012
Houston neurosurgeon / spine surgeon Gary Kraus, M.D. is recognized by Becker's Spine Review among "60 Spine Surgeons to Know." Dr. Kraus has been extremely interested in staying at the forefront of his profession, keeping up to date with the latest advances in spine surgery. He has also worked on inventions in spine surgery which may help to improve patient outcomes.
"There have been tremendous advances in spine surgery over the last ten to twenty years," Dr. Kraus comments. "Instrumentation and techniques for approaching the spine have improved, allowing minimally invasive spine surgery, which can result in patients returning home from the hospital earlier, with less pain and smaller incisions." Dr. Kraus adds that "with advances in biologics, we rarely have to open the hip when bone graft is needed, but instead we have products which provide excellent fusion rates without the discomfort of bone graft harvesting from the hip." "It is an honor to be included by Becker's Spine Review as one of sixty spine surgeon inventors" states Dr. Kraus.
Dr. Kraus has been very interested in advancing the science and technology of spine surgery. Among other areas of spine technology, he has been working on developing Facet Stabilization and Fusion Devices, which can be utilized through minimally invasive surgery approaches or traditional surgical approaches. "The goal is to provide excellent outcomes to patients, with as little disruption to their lives as possible. This means less time off from work, and less pain."
Dr. Gary Kraus has been practicing neurosurgery / spine surgery for 19 years. Dr. Kraus is a Clinical Assistant Professor in the Department of Neurosurgery at the University of Texas Medical School at Houston. He is Chairman of the Section of Neurosurgery at Memorial Hermann Memorial City Hospital in Houston. He is Medical Director of the Neuroscience Center and Gamma Knife Center at West Houston Medical Center in Houston, TX. Dr. Kraus is Board Certified by the American Board of Neurological Surgery.
Dr. Kraus practices at the Kraus Back and Neck Institute, Houston TX. Comprehensive spine care is given, offering non surgical options to patients when possible, but utilizing the most advanced surgical approaches when needed.
Arrangements to be seen for spine problems at the Kraus Back and Neck Institute can be made at 281-870-9292 or
281-44 NEURO (281-446-3876).