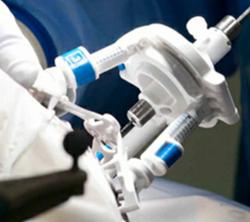 AutoLITT is a major advancement. This is much less invasive than even our most minimally invasive open operations, said Dr. Gene Barnett, MD, Director of the Burkhardt Brain Tumor Center.
Cleveland, OH (PRWEB) February 14, 2012
Cleveland Clinic's Rose Ella Burkhardt Brain Tumor and Neuro-Oncology Center announces the availability of AutoLITT™ advanced laser technology treatment for brain tumors. AutoLITT now offers patients with previously inoperable brain tumors, such as glioblastomas, a minimally invasive surgical treatment option known as laser interstitial thermal therapy (LITT). The first physician worldwide to perform this type of advanced laser therapy for a brain tumor in a human being was Gene Barnett, MD, Director of the Burkhardt Brain Tumor Center. The first clinical testing of the therapy was done in trials conducted at Cleveland Clinic in 2008. AutoLITT was later approved for treatment use by the FDA in May 2009.
AutoLITT uses a diode laser (solid state laser) that produces infrared heat, which subsequently heats the tissue next to it. AutoLITT advances previous technologies by allowing the surgeon to put a laser probe deep into the brain with great precision; once the probe is deeply placed, it is used to heat the tumor in different directions and monitor the heating process. This is done using special intra-operative MRI techniques that measure the temperature and show what part of the tumor is really "cooked" while allowing nearby normal brain tissue to be spared.
Before AutoLITT there was a greater risk of damaging the brain during delicate surgical procedures, according to Dr. Barnett. "The laser technologies themselves aren't new -- they've been around for a couple of decades, but they were primitive and did not allow as much monitoring as this technology does," he said. "Also, we weren't able to steer the laser beam in such a way that we could adapt to different shapes and sizes of tumors very well. AutoLITT offers the benefits of surgery to a whole group of patients who otherwise couldn't safely get surgery, so for many patients, this is a major advancement. This is much less invasive than even our most minimally invasive open operations."
Since AutoLITT was approved by the U.S. Food and Drug Administration in May 2009, Cleveland Clinic has performed more of these procedures than any other hospital in the country. Patients who seek out the most experienced surgeons to perform this procedure are encouraged to contact Cleveland Clinic for an evaluation.
Prospective patients can view AutoLITT videos and related information here.
About Cleveland Clinic
Cleveland Clinic is a nonprofit multispecialty academic medical center that integrates clinical and hospital care with research and education. It was founded in 1921 by four renowned physicians with a vision of providing outstanding patient care based upon the principles of cooperation, compassion and innovation. Cleveland Clinic has pioneered many medical breakthroughs, including coronary artery bypass surgery and the first face transplant in the United States. U.S.News & World Report consistently names Cleveland Clinic as one of the nation's best hospitals in its annual "America's Best Hospitals" survey. About 2,800 full-time salaried physicians and researchers and 11,000 nurses represent 120 medical specialties and subspecialties. Cleveland Clinic health system includes a main campus near downtown Cleveland, eight community hospitals and 18 Family Health Centers in Northeast Ohio, as well as Cleveland Clinic Florida, the Lou Ruvo Center for Brain Health in Las Vegas, Cleveland Clinic Canada, and, opening in 2013, Cleveland Clinic Abu Dhabi. In 2010, there were 4 million visits throughout the Cleveland Clinic health system and 155,000 hospital admissions. Patients came for treatment from every state and from more than 100 countries. Visit us at http://www.clevelandclinic.org. Follow us at twitter.com/ClevelandClinic.
The information contained in this communication was developed by Cleveland Clinic's Marketing Department.
For more information about AutoLITT laser brain tumor treatment please contact:
Halle Bishop
Public Relations Manager
216.445.8592