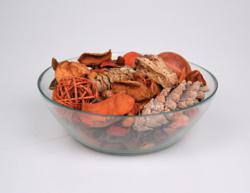 Beautiful scented and unscented potpourri which can be used to enhance any setting!
Parsippany, NJ (PRWEB) October 25, 2012
Whether it's the smell of freshly baked apples or the scent of warm cinnamon spice, fragrances bring back the most memorable and carefree moments. With the warm summer days coming to an end, we start to think about the wonderful fragrances of harvest, autumn, and the holidays. Jodhpuri Inc is introducing their one-of-a-kind potpourri blends to bring warmth and comfort to any setting. With extensive experience in fragrance and home décor, Jodhpuri Inc offers potpourri in various scents and colors. Now available for purchase in 2 lb. bulk bags, not only can Jodhpuri's sensational potpourri blends bring a pleasant smell to any setting, but they can also be used for decorations and arts & crafts. Although the botanicals used to make Jodhpuri's potpourri come from the world's most exotic places, each individual blend is made in the United States for a fresher look, better smell, and a higher quality product with shorter lead time.
With Jodhpuri's fresh bulk potpourri bags one can create their own customized arrangement with the choice of colors and fragrances. The blends come in a variety of fragrances, such as Apple Cinnamon, Citrus, Fresh Linen, Vanilla Bean, and Lavender to name a few. Additionally, Jodhpurri's blends are available in different colors like blue, pink, natural, orange, red, and many more. With both scented and unscented bulk potpourri bags, Jodhpurri's products can be used for any arts & crafts project. Place Jodhpuri's products anywhere from bathrooms, bedrooms, and formal living and dining areas to your workplace or even your garage for marvelous aesthetic appeal and a unique and unforgettable scent!
Jodhpuri's products are sold to several retailers under the retailer's private label brands or under Jodhpuri's own line. Jodhpuri customizes their products to give each account its own unique and appealing look. With constant changes in home décor and fragrance, Jodhpuri Inc is dedicated to staying on top of the latest trends and applying them to all products.
Jodhpuri Inc. is a leading manufacturer and distributor of Reed Diffusers, Potpourri, Incense, Scented Real Touch Flowers, Water Acrylics, Artificial Greenery, and home décor items for over 23 years headquartered in Parsippany, NJ.