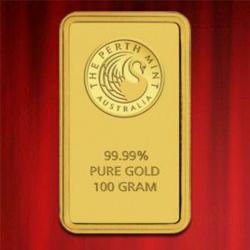 Quantitative easing programs lower the value of the dollar. This prompts a flight into gold bullion because gold is a safe haven!
Bristol, United Kingdom (PRWEB UK) 8 October 2012
BullionUK.com is currently offering 100g gold bullion bars from the Perth Mint for only 2.5% over the gold spot price.
The Perth Mint Authorised Bullion Dealer, based in Bristol offer a variety of Gold Bullion Bars at incredibly low premiums over the gold spot price. Given the struggling global economy and the rising price of gold, many investors are flocking to gold, in particular gold bullion bars. Gold is considered a safe haven, and a method to preserve wealth against rising inflation.
BullionUK.com offer all these savings on gold bars from the best precious metal companies around the world: Perth Mint, UBS, Heraeus, Umicore, Degussa, and Valcambi Suisse. Premiums starting from as little as 1.2% over spot for the 1KG gold bar.
It is definitely not too late to get into the gold market. In fact, it seems that this could be the perfect opportunity to buy gold bars. With the recent price hike in gold and the very volatile geopolitical, environmental, and economic issues facing our planet today, gold continues to be the historically proven track to optimally safeguard and grow wealth.
Geopolitally, we are in uncharted waters. Most experts expect Israel to have attacked Iran within a year. This would likely cause an oil crisis, oil price spike, and potentially more disruptive repercussions and other wars.
Environmentally, the ecosystems of the planet are being shattered very rapidly. This has repercussions for everything on earth, including the economy, since the natural ecosystems are the foundation of all economic, and, when you think about it, all human activity.
At the same time, the global economy slows. Europe continues to struggle with very little hope in sight, with a severe debt crisis that could get much worse.
This is only a brief overview of the destabilizing factors bearing down upon us all today. For these reasons, it makes sense to buy gold. Of course, it makes further sense to buy the best gold bullion of brands; The Perth Mint, UBS, Heraeus, Umicore, Degussa, and Valcambi Suisse for the lowest price.
Based in Bristol, BullionUK is a mail order gold dealer. Investment quality gold bars and bullion coins are available to buy online via their website http://www.BullionUK.com.
Prices are spot based, this means the price of a gold bar or coin actually tracks the live international gold price, ensuring their customers always receive the best possible prices, at the lowest premium.
BullionUK is a Perth Mint authorised distributor, and only sells London Bullion Market Association (LBMA) approved bullion bars.
BullionUK welcomes new investors, and those seeking to learn more. You can contact them by telephone on 0117 975 8627 or email info(at)bullionuk(dot)com. Their knowledgeable team are always on hand and happy to help.