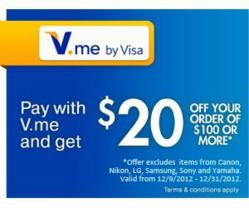 Edison, New Jersey (PRWEB) December 20, 2012
BuyDig.com, the Internet's #1 Superstore, always on the lookout for ways to help its customers save money, has announced a partnership with V.me to give customers $20 off on qualifying orders of $100 or more when using the V.me payment method. Participating brands include Cuisinart, Garmin, Acer, Panasonic, Toshiba, Tamron, Pentax, and Olympus – among many others. To help promote this new payment method and the savings that come with it, BuyDig.com has set up a full information page to guide customers through this offer as well as to list the few exclusions in this offer.
Additionally, BuyDig.com is offering free expedited shipping on select Canon Powershot cameras and free next-day shipping on select Canon DSLRs. To help customers preserve and cherish the memories of this holiday season, Canon and BuyDig have joined forces to get select Canon cameras into the hands of customers who order them quickly and at a lower cost. In order to help customers select the best camera for their needs at the price that fits their budget, BuyDig.com has listed all of the cameras available for free expedited or next-day shipping on one helpful page.
When it comes to getting gifts in time for the holidays, BuyDig.com is ahead of the game. BuyDig.com has published a shipping schedule to help customers determine which shipping option to choose in order to get their gifts before the holidays hit. In addition to this schedule, customers will be prompted to select a shipping method that will get their orders to them by December 24th during check-out.
Finally, BuyDig.com is offering shoppers an extended 45 day return period. Anything purchased now can be returned as late as February 2nd 2013 to give customers and gift recipients the chance to ensure that they get what they truly want over the holiday. With this policy in place, there is no reason to put off holiday shopping another minute. BuyDig.com's selection includes everything from cameras to headphones, handy kitchen appliances, tablet computers, luggage, external hard drives, Bluetooth speakerphone systems, and much, much more.
About BuyDig:
BuyDig.com (http://www.buydig.com) is a family-owned and operated online retailer based in Edison, New Jersey. Founded in 1983 under its parent company, Beach Trading Co. Specializing in selling digital cameras, electronics, computers, tablets, audio/video, home and garden, kitchenware and more, BuyDig has worked to become the internet's #1 electronics superstore. BuyDig partners with many of the major CE manufacturers such as Canon, Samsung, Sony, HP, SanDisk, Garmin, Pyle, and Toshiba to make consumer technology and electronics affordable and available to the widest market possible. BuyDig also offers free shipping on most products as well as a 45-day return policy on items purchased from their store. By combining legendary customer service with a philosophy of providing more for less, BuyDig.com has earned its reputation as the premier destination for consumer electronics.