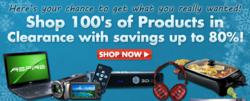 Edison, NJ (PRWEB) December 27, 2012
BuyDig.com, the Internet's #1 Superstore, is offering special markdowns on all televisions listed in the clearance department just in time for the big game. Customers who purchase any television in this department can enter the code "2012CLEARTV" for an additional 20% off the already discounted price. Many of the televisions on clearance are perfect for hosting parties on the day of the big game as well as curling up to watch movies with loved ones or showing off the moves in any video game. In addition to televisions, BuyDig.com has great savings of up to 80% on its clearance cameras, camcorders, headphones, laptops and home and kitchen items. The Edison-based company is always on the lookout for ways to help their customers save money year-round.
In a move designed to end 2012 with a bang, Buydig.com is expanding its partnership with Visa for the last 5 days of the year. Customers can now save a whopping $40 on qualifying orders of $300 or more when using the V.me payment method. Participating brands include Cuisinart, Garmin, Acer, Panasonic, Toshiba, Pentax, and Olympus – among many others. To help promote this new payment method and the savings that come with it, BuyDig.com has set up a full information page to guide customers through this offer and any restrictions that apply.
To help ring in the new year, BuyDig.com is also announcing its first ever happy hour instant win sweepstakes on Facebook. Starting Thursday, December 27, at 3:00 PM Eastern time and running until 4:00 PM Eastern time, BuyDig will host this event on its Facebook fan page. During this hour, twenty lucky winners will receive a coupon for $50 off any order of $100 or more from the BuyDig.com online store. To enter, participants must simply visit the BuyDig.com Facebook fan page, like the sweepstakes application, and enter their name and email address. Winners will be notified immediately if they have been selected and will be given a special coupon code good for a $50 reduction on any order placed with BuyDig.com valued at $100 or more. The sweepstakes will run for only one hour on December 27 so would-be entrants are urged to sign up as soon as the sweepstakes starts.
About BuyDig:
BuyDig.com (http://www.buydig.com) is a family-owned and operated online retailer based in Edison, New Jersey. Founded in 1983 under its parent company, Beach Trading Co. Specializing in selling digital cameras, electronics, computers, tablets, audio/video, home and garden, kitchenware and more, BuyDig has worked to become the internet's #1 electronics superstore. BuyDig partners with many of the major CE manufacturers such as Canon, Samsung, Sony, HP, SanDisk, Garmin, Pyle, and Toshiba to make consumer technology and electronics affordable and available to the widest market possible. BuyDig also offers free shipping on most products as well as a 45-day return policy on items purchased from their store. By combining legendary customer service with a philosophy of providing more for less, BuyDig.com has earned its reputation as the premier destination for consumer electronics.