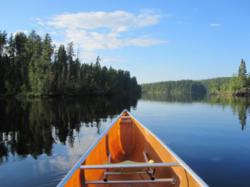 Grand Marais, MN (PRWEB) January 06, 2012
While the Pagami Creek Fire burned last September Boundary Waters folks understood the inconvenience it caused. Canoe Outfitters in Ely made money outfitting fire crews and catering to the influx of people due to the event. BWCA visitors weren't concerned about a BWCA entry point being closed because no one wanted to enter an area where there was active burning. Fast forward to the summer of 2012 when there's no longer an active fire burning and entry points and campsites in the BWCA are still closed. Gunflint Trail resident and owner of Voyageur Canoe Outfitters Sue Prom wonders what the response will be.
The USFS announced campsite and entry point closures for the 2012 Boundary Waters season. According to the USFS document, six Entry point permit quotas have been affected and while there were 28 permits available each day in 2011 there will now only be 18 permits available. The entry points affected are Lake One, Island River, Isabella Lake, Bog Lake, Little Isabella River and Snake River. Also closed indefinitely is the Pow Wow Hiking Trail.
Using the numbers provided by the USFS there is a reduction of 10 permits a day. Ten fewer permits a day may not sound like very many but when you consider up to 9 people could travel on each of those permits it means 90 fewer people a day. Multiply that number by a week, a month or an entire season and it becomes a bigger deal not only for BWCA visitors but also for the canoe outfitters.
"Any time there's a reduction in BWCA permits it's a big deal," said Mike Prom of Voyageur Canoe Outfitters. "We don't outfit to those entry points but if they reduced permits on the Gunflint Trail by 10 permits a day then we'd definitely feel the impact and we've only got 7 outfitters not 20 or 30 like they do in Ely."
BWCA campsites in the Pagami Fire area have also been closed for rehabilitation and safety reasons. The USFS claims some campsites may open back up early in the 2012 season but according to numbers provided by the USFS there will be 75 fewer campsites than there were in previous years. This will force BWCA visitors to plan their travels carefully so they don't end up without a campsite when the sun goes down.
According to Voyageur owner Mike Prom people who want to visit the Boundary Waters Canoe Area this summer still have over 900,000 acres to enjoy that weren't affected by the Pagami Fire. "There are over 1000 lakes in the BWCA and more than 2100 campsites to camp at. Plenty of entry points are available for the 2012 season and permits can be reserved beginning January 25th." said Mike Prom.
Folks who want to visit the area affected by the Pagami Fire should make entry point reservations a little earlier this year. Fire creates a fantastic opportunity to view wildlife and see plant species that aren't normally seen and don't forget the awesome blueberry picking.
Canoe outfitters will know which entry points are open and you can find out by visiting the USFS [website. They will update their information as campsites and entry points are reopened.
###