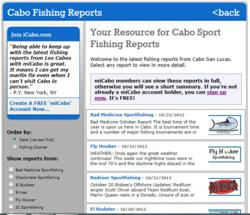 Being able to keep up with what's on in Los Cabos whilst we're at home and prepare for our next vacation is fantastic!
Cabo San Lucas, Baja California Sur (PRWEB) October 30, 2012
Travelling to any new destination can be confusing and expensive for the inexperienced tourist and the continued rise of the All-Inclusive Resort has capitalised on that. Sharp and savvy concierges can direct, and even control, guests' activities and how they spend their time and money, and not always towards the best value options.
In the upscale resort of Cabo San Lucas in Baja California, Mexico, that is about to change with the launch of a new Tourist Information Portal: iCabo.com.
Offering a completely free directory service to tourists as well as a wealth of current information and news on Los Cabos, from local cultural events to the latest Cabo fishing reports, iCabo.com is different from other, more traditional web directories which are largely funded by banner and Google ads.
William Scott, Managing Director of iCabo.com, explains: "In the old model, unless the local business paid a hefty fee, they would not be featured on any of the websites or promoted by the concierges.
"What we want to do is spread the tourist $ to as many businesses as possible in Los Cabos and also offer the visitor much more choice and information on how to make the most of their stay. Our approach is more about building a vibrant online community than launching a digital magazine full of paid adverts.
"We have already uploaded more than 500 pages of news and content and we have an aggressive strategy to expand that even more over the next six months. That already makes us the largest independent information resource for tourists in Los Cabos. Whatever you want to know about Cabo, we've got it covered!"
Additional features of the site include a Cabo Trip Planner that allows visitors to create their own itineraries, combining events and activities from iCabo.com plus personalised entries which they can share with their friends and families. The amateur photographer can also upload their memories to the Cabo Foto Club and can even choose to have their images used on the site with a photo credit.
Full integration with Facebook and Twitter allows users to access the site with their Facebook login and iCabo.com has been designed with smartphones and tablets in mind so visitors can be connected without the need to get to a PC. An exciting range of Apps, especially for visitors, is currently being developed and the booking engine will be expanded to allow tourists to reserve activities directly at the best possible prices.
Jane Woollam, a visitor from Vancouver Island, British Columbia, said: "I was surprised at just how much information was available and how easy it was to use.
"It certainly added a lot of value to our trip and the News feed lets us keep up to date on all things Cabo even when we are at home."
Notes to Editors:
iCabo is the trading name of Mexican Corporation iTravel-connected S.A based in San Jose Del Cabo, Baja Sur, Mexico.
iCabo.com is the result of a six figure investment by iPort Software Inc. of Houston, Texas and Coralinn LLP, a private equity fund based in the United Kingdom.
iCabo.com is built using the iPort Business Platform, a fully integrated web technology platform developed by iPort Group International.
Managing Director William Scott is based permanently in Mexico and directs operations from there, employing local Mexican staff to roll out the website.
Contact: William Scott, iCabo.com, Alvara Obregon 1240, Centro, San Jose Del Cabo BCS
Tel: 287 4385
Email chicm(at)iport4business(dot)com
Web: http://www.icabo.com