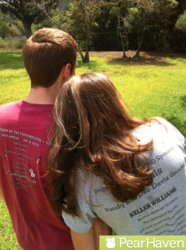 In romantic relationships and in parenting, this might mean noticing when the other person has had a bad day, knowing how to cheer them up, and whether they even want cheering up."
Austin, TX (PRWEB) December 21, 2012
PearHaven, a website for date ideas and maintaining healthy, happy couple relationships, reports on the latest scientific evidence confirming the caregiving effects of a couple's relationship on others. "Being a good partner may make you a better parent. The same set of skills that we tap to be caring toward our partners is what we use to nurture our children," was reported in "Good Partner, Good Parent: Responsiveness Mediates the Link Between Romantic Attachment and Parenting Style," by Abigail Millings, Judi Walsh, Erica Hepper, and Margaret O'Brien. The study was published online on December 6, 2012, in Personality and Social Psychology Bulletin, a journal of the Society for Personality and Social Psychology (SPSP). Millings says. "In romantic relationships and in parenting, this might mean noticing when the other person has had a bad day, knowing how to cheer them up, and whether they even want cheering up."
Further evidence of the importance of couple relationships on others is found in Canadian Living which featured "How your relationship with your mother affects your romantic relationships" by Carole-Anne Vatcher. Vatcher writes, "Research on couples has shown that our relationships with our earliest caretakers have a powerful impact on our romantic relationships. If you're blessed to have a caring mother who respects your boundaries, you are more likely to thrive and feel well in your life, and your couple relationship is likely to have also benefitted from this stability."
More about good couples' relationships and their importance on raising kids is published in US Dept of Health and Human Services, Administration for Children and Families. "The Importance of Fathers in the Healthy Development of Children ," by Author(s): Office on Child Abuse and Neglect, U.S. Children's Bureau Rosenberg, Jeffrey., Wilcox, W. Bradford reports,"A father who has a good relationship with the mother of their children is more likely to be involved and to spend time with their children and to have children who are psychologically and emotionally healthier. Similarly, a mother who feels affirmed by her children's father and who enjoys the benefits of a happy relationship is more likely to be a better mother. Indeed, the quality of the relationship affects the parenting behavior of both parents."
Relationships in life often affect one another. Having good relationships with parents may impact the relationship with your significant other. Similarly, having a healthy relationship with your partner can help make you a better parent.
By giving couples a place to record their memories, post photos and find new date ideas or relationship advice, PearHaven fosters strong relationships through the use of technology and gamification.
PearHaven encourages and promotes a couple's long-term romantic relationship. PearHaven.com uses different features to keep couples romantically involved with each other. The website suggests and maps out the best date ideas. The website also offers a fun game-like design called gamification where couples are rewarded achievement badges for their date experiences such as going on dates in different cities or connecting with other couples.
PearHaven's new iPhone App offers date ideas on-the-go. PearHaven's blog features relationship advice, dating ideas and fun trivia. With more options of competitive or game-like date ideas available to earn achievement badges, a place to share memories and photos, PearHaven couples have a place where they can enrich their dating experiences and strengthen their relationships.
About PearHaven
PearHaven is not a dating site.
It is a social website with free sign-ups for people of all ages who are dating, engaged or married. Members can record their dating experiences, connect with others, post photos and earn achievement badges for trying the latest date ideas. PearHaven.com suggests the best date ideas and maps the locations.The website was founded by David Lackey, a student at Princeton University. PearHaven has a new free iPhone App at the App Store to record date ideas on-the-go.