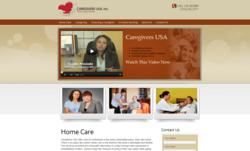 Caregivers USA is one of our special clients and we enjoy helping them build a presence on the Internet to attract more clients and increase their bottom line
Santa Monica, CA (PRWEB) August 22, 2012
The chief executive officer at Unique Web Consulting today announced the company was contracted by Caregivers USA to help with their marketing efforts. Caregivers USA offers exceptional elderly and rehabilitative home care in Pacific Palisades, Beverly Hills, Brentwood, Culver City Marina Del Rey and Santa Monica.
The CEO of Unique Web Consulting, Barak Granot admitted he is excited to partner again with Caregivers USA this time to market the business to thousands of Internet surfers in the Los Angeles area. Mr. Granot said, "Caregivers USA is one of our special clients and we enjoy helping them build a presence on the Internet to attract more clients and increase their bottom line."
Unique Web Consulting recently worked with Caregivers USA by updating and redesigning their corporate website. The new website provides a number of useful how-to articles and guides which are written for consumers who have elderly parents living alone or in their children's home. Research indicates that many seniors who need a caregiver would rather live in their own homes or with a relative as opposed to living in a hospital or nursing home.
In addition to providing helpful information for consumers, the Caregivers USA website also hosts a form which allows clients and potential clients to communicate directly with the company. The form is a perfect way for consumers to ask for information anytime during the day or night.
The company got its start caregiving in Santa Monica and Los Angeles and has continued to grow steadily throughout the years. With the help of Unique Web Consulting, Caregivers USA is now expanding their online presence and they are already receiving returns on their website. More consumers are aware of the company and they're attracting new clients as nearly ninety percent of consumers perform a search online when they're looking for a product or service.
About
Caregivers USA is a family owned agency, managed by Alicia Aguirre and Claudia Preciado, mother and daughter. Our goal and mission is to create a secure, loving, caring, and trusting relationship for your loved ones. We have been providing supportive care for over 22 years. Our passion and love for what we do has made us experts in this field.
Contact
Caregivers USA, Inc.
11674D Gateway Blvd.
Los Angeles, CA 90064
Phone: (310) 256-2771
Web: http://caregiving-losangeles.com/