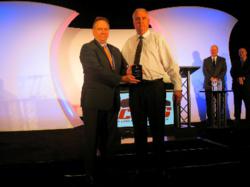 SEATTLE, WA (PRWEB) October 21, 2012
Earlier this month at the 30th annual International Autobody Congress & Exposition (NACE) in New Orleans, Jeff Middleton was awarded 2012 BodyShop Business' Collision Repair Shop Executive of the Year. Middleton is the owner of CARSTAR Exhibition Automotive, and Ballard Collision CARSTAR, both located in the Puget Sound area of Washington State.
The repair shop executive of the year award has been handed out since 1984 to true car visionaries around the United States. To receive this award one must be passionate, dedicated, and always think towards the future.
Middleton, with over 30 years experience in the collision repair industry first started working at a dealership in 1978 and eventually opened his own shop in 2002. During his time in the industry, Jeff has achieved outstanding business success as well as given back to his community in more than one way. He has served on technical school advisory boards since 1985 and continues to participate in many CARSTAR charity projects throughout the year.
Congratulations to Jeff and his teams at both CARSTAR Exhibition Automotive and Ballard Collision CARSTAR!
For more information regarding either of Jeff's repair shops please click the links below:
CARSTAR Exhibition Automotive
Ballard Collision CARSTAR
"At CARSTAR, we fully understand that a collision or auto related incident can be stressful and frustrating. Even when you're not at fault, one wrong turn in traffic can result in an auto accident. When it does, you need CARSTAR."