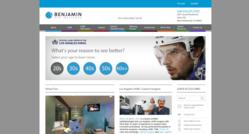 I truly believe that Life is Beautiful, and I will do whatever is humanly possible to help you See It
(PRWEB) July 14, 2012
A client of Unique Web Consulting, Benjamin Eye Institute, a state of the art eye center for LASIK Los Angeles, offers a virtual tour of its clinic via its new website. Everyone can be able to see the eye center's superb interior like its facilities and treatment areas among others. Dr. Arthur Benjamin, M.D. leads a team of doctors, and is a board certified ophthalmologist and LASIK surgeon with more than 16 years of experience in eye correction procedures.
The website of the Benjamin Eye Institute will serve as an information center for people who want to know more about LASIK as well as other eye correction procedures. Clients are not only provided with a virtual tour of the clinic but can also schedule and book appointments. Site visitors can also see the range of services offered by the eye center such as PRK, advanced surface treatment, conductive keratoplasty, clear lens exchange, corneal inlays, cataract and glaucoma treatment and many other services for eye correctional needs. To give assurance regarding the center's experience and reliability, the Benjamin Eye Institute gives a background of their clinic and also talks about the experience, skills and credibility of their team of doctors.
The Benjamin Eye Institute is a Los Angeles Laser Eye Center that provides safe and effective treatment of the eyes. The eye center's Los Angeles office exudes a feeling of warmth so that patients can relax before undergoing any eye procedure. With the clinic's modern and luxurious interior, patients feel right at home and won't feel stressed upon entering the clinic. The clinic also uses advanced technology in diagnosing and treating all types of eye diseases and impairment. What sets the clinic apart from the others in the industry is its dedication to the patients and their needs. The center makes sure that all patients' needs are met with the best doctors and state of the art equipment.
Cataract surgery Los Angeles is also offered by the Benjamin Eye Institute. Modern cataract surgery includes FemtoSecond laser assisted cataract extraction, ClearCorneal Phacoemulsification, astigmatism management and presbyopia correcting IOL's. The eye center gives further details on these cataract treatment options and also identifies the pros and cons associated with each treatment. New cataract treatments can be able to target other eye impairments like astigmatism and nearsightedness making the cataract treatment a great help for people.
About
The Benjamin Eye Institute is a Los Angeles eye center that provides sophisticated and advanced treatment of eye impairments and diseases. The center has highly trained and skilled team of doctors coupled with modern technology for every patient's eye treatment needs.
Contact
Benjamin Eye Institute
9201 W Sunset, Ste 709
West Hollywood, CA 90069
Phone (310) 275-5533
Website http://benjamineye.com