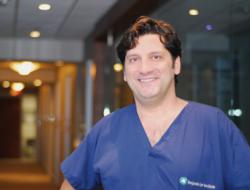 Los Angeles, California (PRWEB) September 24, 2012
Dr. Arthur Benjamin, LASIK surgeon and cataract treatment specialist from the Benjamin Eye Institute, has added another milestone in his career. He recently performed a unique bioptics procedure that has given a 41 year old man with -23 diopters myopia a close to perfect vision without glasses. This procedure combines the Visian ICL, an implantable contact lens with LASIK.
Dr. Benjamin is a board certified ophthalmologist at the Benjamin Eye Institute specializing in laser cataract surgery in Los Angeles. He has performed thousands of surgical vision correction procedures for over 16 years. Recently, a patient with a near blind condition went to his clinic. The 41 year old Ronnie had been legally blind most of his life, having a -23.00D myopia in one eye and a -21.00D in the other eye. He had worn thick coke bottle glasses for decades. At times, he resorted to rigid gas permeable contact lenses which irritated his eyes and gave him much discomfort. Ronnie had no other choice but to seek medical attention.
Ronnie had been informed by previous physicians that LASIK was not an option for him given his severe eye condition. He heard about an ICL procedure and wasted no time in finding the right doctor to seek treatment. After conducting an extensive research, he went to Los Angeles and sought the help of Dr. Arthur Benjamin who performed the life-changing surgery. Upon examination, Dr. Benjamin knew right away that Ronnie was a rare case wherein no single surgical vision correction procedure could solve his condition. With his level of nearsightedness approaching -25 diopters, laser surgery wouldn't even be the best alternative.
Dr. Benjamin decided to implement a combination of procedures to correct Ronnie's vision. He first performed a Visian ICL procedure which reduced Ronald's nearsightedness from -23.00D to -7.00D. Still with residual myopia of -7 diopters, Ronnie had to wear glasses for a month to allow his eyes to relax before moving on to his LASIK surgery. He chose to be left slightly under corrected at -1.00D so he wouldn't need to use reading glasses. Today, Ronnie enjoys the best vision at 20/30 uncorrected. For him, it was a life-changing experience of which he would forever be grateful to Dr. Benjamin.
At the Benjamin Eye Institute, the latest and most modern technology is used to offer the best refractive laser surgery to patients. Quality LASIK is performed only by expert surgeon, Dr. Arthur Benjamin. Comparing LASIK cost in Los Angeles is not a wise move when making a choice of which laser eye center to go and seek vision correction. Quality of technology and expertise of surgeon should be the main deciding factor. When one speaks of quality, only one eye center comes close, the Benjamin Eye Institute.
About
Benjamin Eye Institute is a premier eye care, refractive and cataract surgery practice in the greater Los Angeles area specializing in LASIK, PRK and premium cataract care. The chief surgeon and the medical director of the institute, Dr Arthur Benjamin, is a comprehensive Eye Physician and Surgeon, Board Certified by the American Board of Ophthalmology. Dr. Benjamin was the first ophthalmologist to perform the innovative Acrysof ReSTOR IOL procedure and considered a leader in multifocal lens implantation in Los Angeles.
Contact
Benjamin Eye Institute
9201 West Sunset Boulevard
Suite 709
West Hollywood, CA 90069
Phone 1-310-275-5533
Email victoriac(at)benjamineye(dot)com
Website http://benjamineye.com