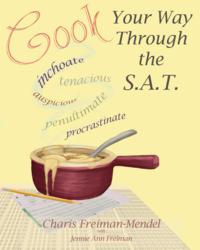 Fun fact: tomatoes are the only fruit to be declared a vegetable by the United States Supreme Court (1893 in Nix v. Hedden).
Wallingford, CT. (PRWEB) April 19, 2012
Charis Freiman-Mendel, author of "Cook Your Way Through The S.A.T." is seeing red, anticipating Earth Day with plans for sharing recipes and fun facts about tomatoes, a dietary staple that can be enjoyed raw, cooked, canned and in drinks. To honor the beauty of Planet Earth and promote sustainable living, Freiman-Mendel encourages Earth Day participants to think about healthy eating, nutritious meal choices and cooking with fresh, preferably organic, ingredients.
Tomatoes are cultivated around the world and are the most frequent vegetable grown in home gardens. "Tomatoes are truly ubiquitous," notes Freiman-Mendel, perfect for Earth Day festivities around the globe. She recently discussed the health benefits of tomatoes with "Mike The Gardener" who blogs at AveragePersonGardening. Earth Day participants cooking with tomatoes can enjoy an array of shapes, sizes and color.
"Cook Your Way Through The S.A.T," a cookbook and standardized test prep tool, contains many recipes featuring tomatoes. Eight of Freiman-Mendel's thirty three first course recipes contain tomatoes, as do sixteen of her main course offerings. Freiman-Mendel's recipe for ratatouille, a dish that contains a medley of vegetables, makes a logical Earth Day meal. Other tomato recipes in the book include gazpacho, chop chop salad, vegetable kabobs, rotini primavera and stuffed peppers. "Cook Your Way Through The S.A.T." does not include any dessert recipes with tomatoes, so Freiman-Mendel recently shared a recipe for tomato pudding on her blog. Following the format used in "Cook Your Way Through The S.A.T.," Freiman-Mendel's blog post also included some tomato fun facts, a few vocabulary words and her recipe for fried green tomatoes.
"Cook Your Way Through The S.A.T." is a great way for families to celebrate Earth Day, enjoy recipes, cook together, and open a conversation about healthy living. It's a terriic day to green and get red!
For great cooking, fun facts, project-based learning, new vocabulary and strategy for improving standardized test scores, order "Cook Your Way Through The S.A.T. and follow Charis on her blog and with Twitter. To feature Charis in your news media outlet, please contact Charis(at)SATgourmet(dot)com.