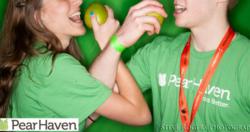 without a cell phone nearby, seems to help foster closeness, connectedness, interpersonal trust, and perceptions of empathy — the building-blocks of relationship
Austin. TX (PRWEB) October 30, 2012
According to PearHaven's website for member-posted date ideas, the most popular date idea is going out to dinner as a couple. Couples routinely bring their cell phones to the dining table whether to wait for an important call, check emails or do a last minute text. This can prove a distraction while conversing. Or, make the significant other feel less important.
 Recent research reported by by Helen Lee Lin in the September 2012 issue of Scientific American  talks about "How Your Cell Phone Hurts Your Relationships." The scientific research was done by the University of Essex scientists, Weinstein and Przybylski who studied the effects of a cell phone nearby the  paired participants.
These participants reported feeling a lack of closeness or not much of a relationship when a cell phone is nearby. "...without a cell phone nearby, seems to help foster closeness, connectedness, interpersonal trust, and perceptions of empathy — the building-blocks of relationships," as reported by Lin.  Lin  continued her examination of the research saying participants also felt a lack of trust and empathy and they reported "lower relationship quality and less closeness."
Another reason to keep the cell phone off the dinner table is found in scientific research reported by Aaron Smith of the Pew Internet & American Life Project, in the article, "Americans and Their Cell Phones." Smith examined the influence of the cell phone in American's daily lives. Smith found "Cell phones can help prevent unwanted personal interactions – 13% of cell owners pretended to be using their phone in order to avoid interacting with the people around them."
PearHaven' s website is about maintaining a couple's relationship and the most popular date idea is going out to dinner. Thus, If couples want to build on their relationship, creating stronger bonds and heightened closeness, they should leave the cell phone definitely out of sight.
PearHaven encourages and promotes a couple's long-term romantic relationship. PearHaven.com uses different features to keep couples romantically involved with each other. The website suggests and maps out new date ideas. The website also offers a fun game-like design called gamification where couples are rewarded achievement badges for their date experiences such as going on dates in different cities or connecting with other couples.
PearHaven's new iPhone App offers date ideas on-the-go. PearHaven's blog features relationship advice, dating ideas and dating trivia. With more options of competitive or game-like date ideas available to earn achievement badges, a place to share memories and photos, PearHaven couples have a place where they can enrich their dating experiences and strengthen their relationships.
About PearHaven
PearHaven is not a dating site.
It is a social website with free sign-ups for people of all ages who are dating, engaged or married. Members can record their dating experiences, connect with others, post photos and earn achievement badges for trying new date ideas. PearHaven.com suggests new date ideas and maps the locations.The website was founded by David Lackey, a student at Princeton University. PearHaven has a new free iPhone App at App Store to record date ideas on-the-go