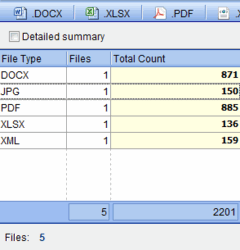 The key to success is entering early and keeping it simple. If there is no user-friendly tool on the market - consider it empty. And consequently conquer it with your product
Atlanta, Georgia (PRWEB) July 26, 2012
Advanced International Translations (AIT), the company behind AnyCount has risen from a humble word count tool startup company to a niche world leader, supporting multiple processors and myriad of formats, while maintaining continuous user interaction and customer support. AIT prides with the fact that the customer care team always outnumbered the development team, proving that a good product must come with a great support infrastructure.
Now, AnyCount provides a great example of how a successful software company can grow to a world leader in the industry, delivering the best product, not the highest head count. "The key to success is entering early and keeping it simple. If there is no user-friendly tool on the market - consider it empty And consequently conquer it with your product". says Vladimir Pedchenko, AIT's managing director.
The current release supports word count in 37 file formats:

Word count in text formats: TXT - Notepad and other simple word processors, .RTF - Rich Text Format;
Word Count in Microsoft Office word processors: .DOC - Microsoft Word 97, 2000, 2003, .DOCX - Microsoft Word, version 2007, 2010;
Word Count in Microsoft Office spreadsheets: .XLS - Microsoft Excel 97, 2000, 2003, .XLSX - Microsoft Excel 2007, 2010;
Word Count in Microsoft Office presentation programs: Microsoft PowerPoint 2000, 2003, .PPTX – Microsoft PowerPoint 2007, 2010;
Word Count in Open Office formats: Oracle Open Office Writer, Oracle Open Office Calc, Oracle Open Office Impress;
Word Count in Help Formats: .HLP - Microsoft WinHelp Format, Windows Help Viewer, .CHM - Microsoft Compiled HTML Help Format;
Word Count in Images: .BMP - Bitmap Image File format, .JPG - Joint Photographic Experts Group (JPEG) format, .GIF - Graphics Interchange Format, .PNG - Portable Network Graphics Format;
Automatic processing of archived files: both WinZip and WinRAR file compressors are supported;
Additionally, AnyCount supports character count, line count, and word count in custom text count units.
The Results of text count can be exported or used for invoicing using built-in invoice generator with template customization, client database and multi-currency support.
With the current release we are marking the 10th anniversary of AnyCount and it is clear to us three things are at the core of our success:Focus on the single most important benefit (word count in this case);

Extend support for the feature over time (from .DOC format in the first release to 37 formats 10 years later);
Funnel user requests to make them a reality. In July 2011, AIT got recognized by Microsoft as Silver Partner in Independent Software Vendor (ISV) category.
In April 2012 AIT has been awarded the top status (Premier Elite Partner) of the Intel Software Partner Program.
At the moment AnyCount is the de facto standard word count tool for translation industry and quickly gains popularity among medical transcriptionists, journalists, and other freelance professionals. The main output of these trades are written words and AnyCount helps to count them.
For more Information and Press-Inquiries:
E-mail: PR12(at)translation3000(dot)com
Web-site: http://www.anycount.com