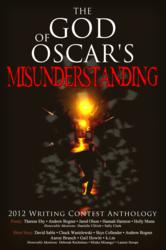 I believe that Art should spring from the foundations of Christian theology and philosophy, and share those through the resulting beauty!
(PRWEB) September 19, 2012
Athanatos Christian Ministries Director, Anthony Horvath, is delighted to announce that Therese Eby has earned the Hieropraxis Gerard Manley Hopkins Award for 1st Place for her entry, "Herodias," in the ACM 2012 Christian Poetry Contest. "Herodias" will be available in the soon to be published "The God of Oscar's Misunderstanding: 2012 Writing Contest Anthology."
ACM holds an annual writing contest in various categories to promote literary apologetics. "Christians have often ignored the arts, failing to recognize the power they have to convey important aspects of the Christian faith or even to evangelize. Poetry reaches past the walls that people have erected against faith, striking straight to the heart," Horvath says. "and Therese Eby is a talented poet, masterfully weaving faith and verse."
"ACM's emphasis on 'literary apologetics' thrills me!" shares Therese Eby. "As Christians, we are understandably seeking art forms that support and encourage our faith and way of life. But that does not mean that "art" should suffer in order to be made to carry a Christian meaning! Rather, as Tolkien believed, our Christian beliefs inform every aspect of our lives—including our Art—without necessarily being labeled as Christian."
Therese Eby continues, "I believe that Art should spring from the foundations of Christian theology and philosophy, and share those through the resulting beauty! While I did not write "Herodias" with ACM in mind, their mission to foster true Art as a flowering of Christian understanding did convince me to participate in the writing contest."
On her inspiration for "Herodias," Eby says " During a very rough year in college, I went on a spiritual retreat where one of the meditations was about the difficulty of accepting love. That seems to be a malady that is affecting many people, young and old, today, but it is not an entirely new struggle. Herodias is an example of a woman who clearly thinks that she is seeking and accepting love, but when she encounters a real form of love—of Christian love!—it is too hard to endure, and in rejecting John's rebuke she rejects her own chance at happiness."
Therese Eby, an elementary school educator who attended Hillsdale College and the University of Dallas, describes herself as an aspiring Artiste who "was nourished from infancy with a fare of Epic heroism, classical verse, and delicious words and ideas." Eby began making up stories around the tender age of 3. "...but it was only in middle school that I began to write them down, and to experiment with poetry. At first my 'poems' were simply rhymes, because I loved the rhythms and sounds." Eby explains, "... as I grew up I found that the discipline and form of poetry gives a special power and glory to the words." She has found inspiration in the works of T.S. Eliot, Allen Tate, Czeslaw Milosz, Richard Wilbur, and others. Eby hopes to ignite and cultivate a love for fine art wrought though words in her work both as a poet and an educator.
In addition to being published in the "2012 Writing Contest Anthology," the prize winning poem, "Herodias" will be available shortly for online enjoyment. Therese Eby is available for interviews and can be reached through the publisher at athanatosministries.org.
Information about the ACM 2013 Writing Contest is available online, as it is already accepting entries in short story, poetry, and christian children's book categories.
Other titles by ACM include Joseph Keysor's "Hitler, the Holocaust, and the Bible" and Shirley Tucker's "Diamonds in the Dust.." ACM's entire catalog is viewable online. Upcoming releases include Chris Morrow's "The Devil's Choir" and Derek Elkins' "Life Unworthy of Life."