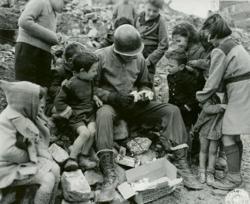 Our nostalgia for the Christmases our parents gave us have shaped our own celebration.
Harrisburg, Pennsylvania (PRWEB) November 30, 2012
You walk into the mall in early November, and evergreens and red bows festoon the walls. Carols play on the sound system, and it's beginning to look a lot like…World War II.
So says Jim Kushlan, publisher of AMERICA IN WWII magazine, who is busy preparing holiday features to appear on his magazine's website between now and Christmas. "By World War II standards, I'm running late," he says. "Preparation for Christmas moved much earlier during the war than it had ever been before."
There was a reason: wartime Americans wanted to send gifts to sons serving as WWII GIs overseas. Kushlan cites an article that appeared in a past issue of AMERICA IN WWII. In "Day of Hope," editor Carl Zebrowski writes "In 1943, the post office declared October 31 the last day mail could be sent to the Pacific and be guaranteed to arrive by Christmas Eve." That meant Christmas shopping had to happen sooner.
A longer retail season delighted merchants. And, as author Terry W. Burger notes in "Christmas under the Gun"—a feature on AmericaInWWII.com—"although the war ended in 1945, the extended shopping season it helped establish did not."
People don't just shop longer since the war; they buy more. That may have started as a reaction to the hard knocks WWII Americans endured early in life, growing up in the Depression and then finding themselves in a global war—whether fighting overseas or toughing out hard work and restricted supplies on the WWII home front. Then came victory, peace, opportunity, and abundance. The time for sacrifice was over.
The change was good for business and quality of life, but it may have had negative effects, too. Burger writes, "…Even just before World War II, Christmas was an important religious and family event…. It was not a major commercial opportunity."
On a more external level, the World War II years set the standard for how American Christmas should look and feel. Even today, a major ornament manufacturer features a line that replicates 1940s ornaments from Shiny-Brite, a New York City company founded by importer Max Eckardt.
"Eckardt saw what was happening in the world in the late '30s," says Kushlan. Realizing that war would make glass ornaments from Germany and Japan unavailable, Eckardt worked with the Corning Glass Company to introduce his own blown-glass decorations. Through the war years and for decades afterward, American Christmas trees were bejeweled by Shiny-Brites. Many still are.
Santa Claus's look seems to have frozen in the 1940s, too, comments Kushlan. "It was a long road from the saintly bishop Nicholas of Myra to cartoonist Thomas Nast's stout elf of the mid-1800s, to the Santa we have today—the Santa of the '40s."
Our 1940s Santa fits well with another World War II-era legacy: America's most beloved Christmas songs. The list is staggering: "White Christmas," 1942; "Have Yourself a Merry Little Christmas," 1943–44; "I'll Be Home for Christmas,"1943; "The Christmas Song," written in 1944; "Happy Holiday," 1942; "Baby, It's Cold Outside," written in 1944; and "Let It Snow! Let It Snow! Let It Snow!" from 1945.
World War II is likely to keep influencing American Christmas, says Kushlan. The reason? "Many of Baby Boomers are parents or grandparents now. Our nostalgia for the Christmases our parents gave us have shaped our own celebration. In the process, we have given our youngsters memories of Bing on the stereo, piles of gifts under the tree, and the feel of '40s yuletide. Odds are, that's what they'll be nostalgic for."
AMERICA IN WWII is available at Barnes & Noble, Books A Million, and select other bookstores. Subscription links for print editions and digital editions for tablets and mobile devices are at http://www.AmericaInWWII.com/subscriptions/.
America In WWII and AmericaInWWII.com are publications of 310 Publishing LLC of Harrisburg, Pennsylvania, a company committed to telling the stories of history in human terms.